CEDIA 2017 Preview
A lot of the products that will be seen, touched, talked about (in some cases, spoken to), and demonstrated at the
CEDIA 2017
trade show are things that the average person will never see, touch, or talk about (but might talk to)—even if they're installed in that person's home. Why? Because
CEDIA
(Custom Electronic Design & Installation Association) is an international trade association for professionals in the custom installation/home integration field. CEDIA is involved in developing "industry education and certification, launching research initiatives, advocacy on legislative issues, building relationships with architects, builders, and interior designers, educating the consumer, and recognizing industry achievement" and now has over 3,500 member companies worldwide. The "only show dedicated 100% to residential technology," CEDIA 2017 is expected to draw more than 18,000 home technology professional attendees and over 500 exhibitors to the San Diego Convention Center, September 5 through 9. As you might expect, Sound & Vision will be there, too, with plenty of eyes and ears on the show floor posting blogs about the newest and most noteworthy products and technologies demonstrated there—whether it's something you'll see in your home (like a new projection screen) or something you won't (like a new home automation controller). Here's a quick glimpse at some of the things that we're waiting to see—and tell you about over the coming days.
Audio
CEDIA shows aren't always the events at which you'll find a lot of cutting-edge, high-performance audio introductions, but this year there'll be more than a couple of exciting new audio products dedicated to multiroom and streaming audio, home theater, and two-channel music. Perhaps the highest profile introduction will be from Meridian Audio, which will be celebrating the company's 40th Anniversary by introducing the 271 Digital Theatre Controller and the 251 Powered Zone Controller. According to Meridian, the 271 "allows technology integrators to provide the best immersive, hi-res audio for home theatre, with the ability to integrate any analogue or digital AV processor or receiver with Meridian's DSP loudspeakers…for Atmos, Auro and DTS-X 3D systems, offering 16 unbalanced inputs, 16 balanced inputs and the option of 16 digital inputs." The 251 is designed for "a variety of analogue speaker applications" and is "enabled for hi-res audio including Master Quality Authenticated (MQA) audio." Meridian will also preview the UHD722 HDMI Processor (a 4K switch solution with MMHR output for connection to existing processors) and the Meridian 210 streamer (designed to bring Bluetooth, Airplay and Spotify Connect to Meridian products).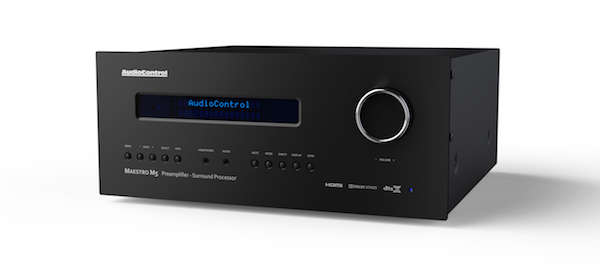 Another company celebrating 40 years in business is AudioControl. It will be introducing the Maestro M5, a new pre/pro that's based upon the audio/video platform utilized in AudioControl's line of home theater receivers. The Maestro M5 includes Dolby Atmos and DTS-X plus Dirac Live room correction along with dual balanced XLR inputs and balanced XLR outputs for all channels, including height. There are seven HDMI inputs plus dual HDMI outputs (ARC compatible) as well as an ultra HD 4K video pass-through and upscaling capability that includes support for High Dynamic Range (HDR).
Wisdom Audio will debut the company's second-generation SC-2 (8-channel in, 16-channel out) and SC-3 (16-channel in, 32-channel out) system controllers with built-in Dirac Live, "a platform for optimized sound enhancement technology" Wisdom Audio says, "the controllers are designed to deliver perfect sound in any listening room by removing resonances and acoustic problems in sound reproduction. Expert Mode provides installers with an additional layer of live tuning features, equalization tools, and ability to override delays and trim EQ to optimize system performance in the most difficult acoustic scenarios. With four preset slots to store up to four complete and independent calibrations, installers have plenty of room to perform multiple room correction setups for up to 16 zones or rooms." (Emphasis is mine.) Along with the new Sage Series ICS7a in-ceiling loudspeaker system, Wisdom Audio will show off the company's two-channel and LCR versions of its Sage Series Superbars—available in custom lengths of up to 98 inches and in black or custom finishes.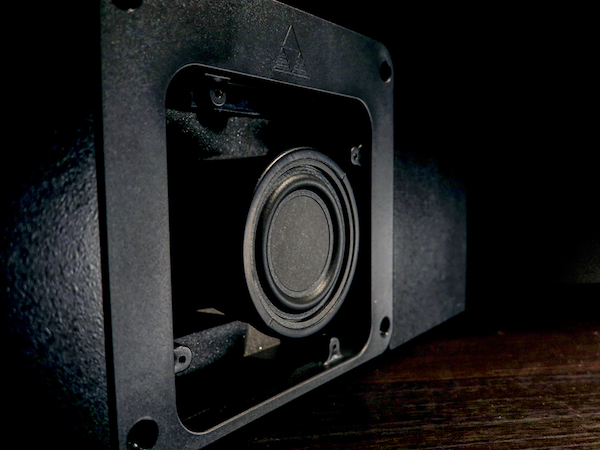 Triad Speakers (now a division of Control4) will be exhibiting the company's new Designer Series Full-Range speaker (DS4-FR) and the matching DS4-SUB in-ceiling subwoofer. Although the enclosure sizes of the DS4-FR and the DS4-SUB are both 8.5 x 16 x 8.825 (H x W x D, inches), the only part of the speaker that is visible is a four-inch grille (round or square, flush-mount or micro-frame). The DS4-FR includes two 3" x 6" woofers and a single 2.5" Ultra-Broad Dispersion (UBD) full-range driver that Triad claims is capable of dispersing sound through a 150-degree sound field. Aside from tremendous sound quality (I heard a DS4-FR system in August at Triad's factory in Portland, Oregon), the most valuable aspect of the new Designer Series speakers is that all the components in the speakers can be accessed through the four-inch opening (after removing the grille, of course). That means that if a driver or crossover in a Triad DS4-FR or DS4-SUB ever fails, the installer can remove and replace the defective part without tearing the entire speaker enclosure out of the ceiling.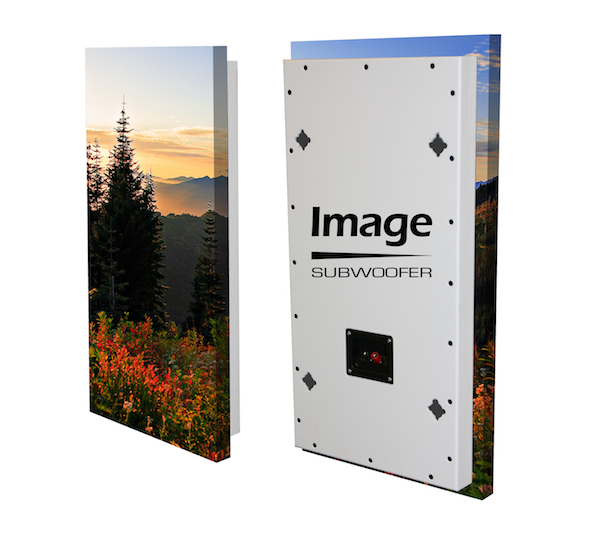 Other companies introducing new speakers include Leon Speakers (the new flagship SEVEN series with a number of models, including the all-new Timbre SEVEN bookshelf speakers, the Horizon SEVEN soundbar, the Profile SEVEN sidemount speakers, and the Detail SEVEN on-wall speakers), GoldenEar Technology (the Invisa Signature Point Source, an L/C/R intended for vertical or horizontal in-wall installation; and the Invisa 600, an in-ceiling speaker with a 6.5-inch mid/bass driver and a newly developed, pivoting one-inch titanium dome tweeter priced at $199/each), and Stealth Acoustics (the Image III Subwoofer, an on-wall subwoofer with rated bass response down to 30 Hz).
The film screen brand Screen Excellence is launching an audio brand, called Audio Excellence at CEDIA 2017. The new division says its systems "employ a commercial cinema approach to layout logic and signal routing and does NOT advocate room calibration, but rather acoustical treatment. Specially designed limited-range high-SPL speakers used behind the A.T. film screen crossed over to the subwoofers at specific frequencies optimize the initial wavefront from the LCRs to create what CEO Patrice Congard claims is 'the most realistic and powerful bass response achieved in a home theater sound system today.'"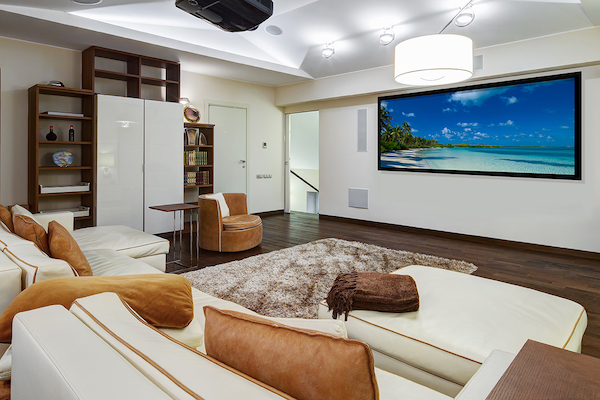 Video
Projection screens will be a big thing at CEDIA 2017—and that's not an exaggeration. Crystal Screens is introducing two new, 130"-diagonal, seamless screens that utilize "the company's proprietary holographic technology that rejects ambient light sources and provides uniform optical performance over all color spectrums." The new seamless fixed screens have a 2.4:1 aspect ratio. The two models include Reflect 2.5 with a 120° viewing angle and 2.5 gain, and Reflect 3.0 with a 70° viewing angle and 3.0 gain and come with a three-inch-wide, velvet covered bezel with an "easy to assemble proprietary frame tensioning design. Vutec, another company at CEDIA 2017 that's celebrating its 40th Anniversary, will be introducing the Stiletto Projection Screen [shown at the beginning of this post], which, Vutec says, "incorporates the thinnest fixed frame floating edge projection screen with a 1/16" Aluminum Edge." The company claims the Stiletto is "8K UHD ready" with gain options of 0.6, 0.8, 0.95, and 1.3. Screens are also available in the company's SoundScreen fabric for use in front of speakers; and available formats include 16:9, 16:10 and 2.35:1 with custom (made in the USA) sizes up to 86.50" x 138.50" a 163" diagonal. Not to be outdone, the venerable Stewart Filmscreen—celebrating its 70th Anniversary at CEDIA 2017—is introducing the Gemini dual-roller projection screen system. The unique configuration design allows integrators to avoid the typical either/or option of installing a screen material that will offer a true cinematic experience within a home theater or one that will perform well in high-ambient light conditions. Instead, Gemini is suitable for both situations since it is available with two reference-grade screen materials offering two different aspect ratios.
Iowa-based Seymour-Screen Excellence (not to be confused with the aforementioned Screen Excellence) will be demonstrating a "new-and-improved" woven fabric screen surface, called Neo. According to the company's effusive press release, "Managing director Chris Seymour is so confident in Neo's finely woven thin-fabric pattern that he challenges CEDIA attendees to 'stand smack up against it and try and detect any visible structure to the material!'" Although the company says that it is not a proponent of micro-perf screen materials, Seymour-Screen Excellence will be unrolling a new micro-perforated version of its Ambient Light-Rejecting screens.
Home Automation
You can't spell CEDIA without "home automation". Well, actually, you can spell it without home automation; but you certainly can't attend CEDIA 2017 without seeing plenty of home automation, like smart door locks, for example. Yale will be allowing people to put their grubby little fingers all over the company's new Assure Lock SL, a "sleek and modern touchscreen deadbolt" that is touted as being the "slimmest available" lock of its kind. An optional Yale Network Module is available in Z-Wave Plus, ZigBee and iM1 (for HomeKit compatibility) versions. August, the pioneering maker of smart door locks for retrofit over existing deadbolts, will be announcing additional integration capabilities for its Smart Lock, Smart Doorbell, and Smart Keypad products.
If you're a fan of modern Italian design, the Visto is a new trendy looking, smart video doorbell with full audio and video communication via an app on your smart phone. The company says that Visto "is so smart that it can use the 2 wires from your existing doorbell and pass both the power and the data signals. This solves the common problem of having poor wifi coverage all the way at your front door. The Visto also has built in night vision, video recording on a SD card and in the cloud, motion detection, and multiple mounting options including an angle mount."
Being introduced by Elexa, Guardian is a "leak and flood prevention system that installs without tools or a plumber." In other words, instead of turning a deadbolt in your door, Guardian can turn off the main water valve in your house if a leak is detected. (If a friend of mine had had one of these installed on his main water valve last year while he was on vacation, it would have save him—and his insurance company—over $60,000 that a leaking toilet caused.) Zipato's Valve Controller is similarly designed, although Zipato says the Valve Controller can be used to shut off gas valves in addition to water valves.
Cognitive Systems will be introducing a new version of its smart home security system, called Aura. The company says Aura is "the first self-installed home security system to use the disruption of wireless signals to detect motion in the home. This technology provides dependable motion detection, filtering out motion that triggers traditional systems such as fans, shadows, etc." Surprisingly, it's a simple two-piece system that "provides expanded coverage for the average American home without using cameras." According to Cognitive Systems, "Consumers connect to Aura using a mobile app where they'll be able to see three motion analytic views, find out who's home, auto-arm and disarm the system, add/delete members and take action if unexpected motion is detected." I'm not sure how they'll accomplish that with only two components in the system, but I'm eager to see the system for myself.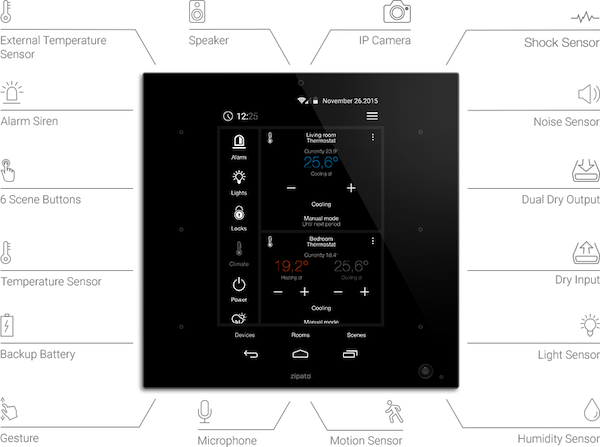 Two other companies will be introducing all-in-one, wall-mounted home automation systems. ZipaTile from Zipato is a wall mount digital touch panel based on Android OS, which has multiple sensors and communication modules integrated inside so, according to the company, it can replace multiple standard automation and control systems, such as security, thermostat, monitoring camera and other subsystems. Coming off a highly successful pre-order campaign, Brilliant is bringing what it says is "The World's Smartest Light Switch", called the Brilliant Control. They might be right, too, since the Brilliant Control is designed to replace an existing light switch with a classy looking touch panel (available in a variety of finishes) that provides access "to music, climate, and other common smart home devices with just a simple touch or voice command — no smartphone required. Brilliant Controls work with dozens of smart home services and devices including Nest, Sonos, Philips Hue, Ring, SmartThings, Honeywell, security systems and countless others." Voice command is available via its built-in Amazon Alexa integration.
Vitrea is introducing its VTouch Pro Wireless System, to North and South America at CEDIA 2017. The system is based on Vitrea's proprietary wireless MESH protocol, ARANET, which makes it "among the most stable and safest smart home solutions on the market." Vitrea says the VTouch Pro system "integrates with many leading third-party products including Control4, Savant, RTI, Crestron and others via its IP/RS-232/RS-485 connections to control every element of a home or office. VTouch Pro can connect and control various types of LEDs, HVAC systems, blinds & shades, security systems and more."
Lighting Control
Although very quiet about the details, Lutron says it will be introducing new products across in nearly every product category it currently is involved in. One product, Lutron's RA2 Select lighting system, is designed to offer a more affordable way for homeowners to integrate a professional lighting system into their homes. You can expect to hear much more from Lutron on the Tuesday or Wednesday.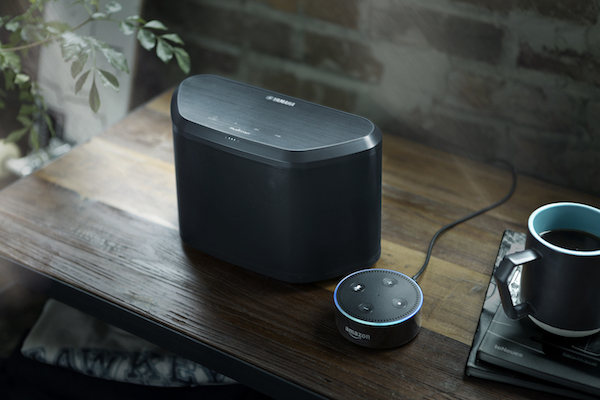 Voice Control
Voice control at CEDIA 2017 won't be limited to the Brilliant Control system, and the fact that Amazon will be presenting a sponsored Keynote Address on Thursday, Sept. 7 should indicated how serious Amazon and Alexa will be for CEDIA members in the future of the industry. During the address, according to a press release from CEDIA, "Sarah Zenz, General Manager of Amazon's Smart Home Services business, will share how Amazon is helping customers take advantage of Smart Home experiences and supporting the business of CEDIA home technology professionals."
Yamaha is using CEDIA 2017 to announce that the company is "ramping up integration of Amazon Alexa with more than 40 of the company's MusicCast wireless multiroom products through an Alexa skill…The new hands-free capabilities will arrive as a firmware update in early October. An Alexa skill that adds support for MusicCast commands will be made available concurrently for Alexa-enabled devices, including the Amazon Echo, Echo Dot, Tap and Echo Show."
The most intriguing integration of Amazon Alexa might be coming from Origin Acoustics as part of its Valet Amplifier line. According to Origin Acoustics, "Valet Amplifiers are high fidelity multi-zone amplifiers purpose built for voice control. The Valet system connects up to four Amazon Echo Dots, hides the equipment in the ceiling or wall, and then provides power to both the dot and your speakers."
Of course, there's no way to cover all of the interesting things we're expecting to see at CEDIA 2017—and no way to anticipate those potentially industry-changing things we might discover. We'll be posting daily from the San Diego Convention Center floor, September 5-9, so check back with us throughout each day for the latest from CEDIA 2017.