Cassettes, Really?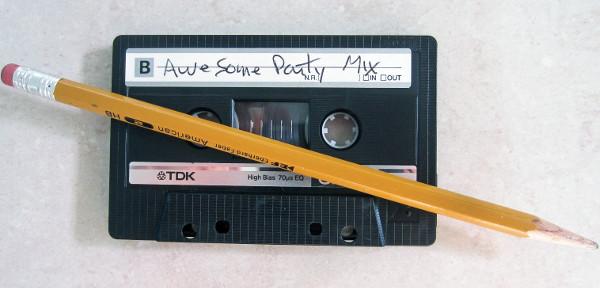 I am sorry. Only certain people will be allowed to read this column. To ensure that you are qualified, you must first correctly answer this question: What is the relationship between cassettes and pencils? If you can answer that, feel free to read on. If you can't, please move on.
Pencils, of course, are used to take up the slack in the tape inside a cassette. You know that because, as a former cassette user, you performed that small chore countless times. Alternatively, you jammed your little finger into one of the reel sockets. Among other cassette chores: endlessly pushing the fast-forward and rewind buttons until you found the start of a song; struggling to hear the music over the roar of the tape hiss; getting a queasy feeling from the undulating pitch variations; screaming at the cassette deck that just ate your Awesome Party Mix tape.
In other words, because you lived through the cassette era, you will agree with me that cassettes are terrible. And yet, cassettes are making a comeback. Perhaps comeback is too strong a word. Renewed interest, maybe?
Cassette sales peaked in the '80s, and the format was subsequently left for dead. Recently, however, some indie and DIY bands have begun to embrace cassettes, sometimes releasing their work exclusively on cassette. They are dirt-cheap to make and harder to pirate than files. National Audio Company, the largest cassette manufacturer, made 10 million cassettes in 2014, and sales are up 20 percent this year. To promote awareness, Cassette Store Day is observed annually.
I can vaguely picture it. You're in college, and you are compelled to differentiate yourself from the sheeple. Your mom wears a Billy Idol T-shirt and jeans with ripped knees, and she likes to smoke pot while listening to LPs. Clearly, you're not going to be doing any of those things. You need something different, something undiscovered, a niche that excludes coolness, hipness, or logic. And you find it: cassettes.
Remember when people used the phrase "That's bad!" to enthuse about something that was really good? The problem with cassettes is that they really are bad.
Still, I don't get it. Remember when people used the phrase "That's bad!" to enthuse about something that was really good? The problem with cassettes is that they really are bad. Really, really bad. Cassettes don't sound very good, and they aren't convenient. If anything, cassettes present a barrier to their use. For starters, you have to find a cassette player. Surprisingly, Sony still sells a cassette boombox for 50 bucks, but it would be better to find a cassette deck at a flea market for 5 bucks. Then you need to learn to deal with the tribulations of using cassettes (see second paragraph, above).
And perhaps that's the appeal of cassettes. In a world where your phone has 100,000 of your favorite songs and can stream any song ever written, music is too easy. Music takes zero effort, and that devalues it. With cassettes, if you want to listen to a song, you have to put in some effort. Maybe that means you'll appreciate the song that much more. Maybe the point is that cassettes are a PITA, and some bands demand that their listeners ante up for the privilege of listening.
Cassettes reject the mainstream resurgence of LPs, an elegant format that has been hijacked by hipsters and too-cool retailers. Cassettes are a music anti-technology. Cassettes are the perfect niche format for niche music. Cassettes are humble, as humble as a homemade mix tape with a hand-written label, given to a cute girl.
But still—cassettes? Really? As an audio engineer, I am genuinely offended. Cassettes have absolutely no redeeming technical qualities. I don't understand why we are seeing a comeback. Um, renewed interest.