Canton GLE Series home theater speaker system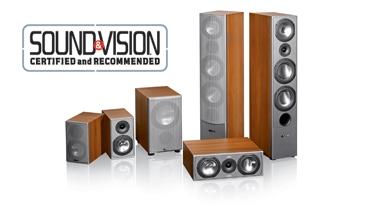 The Short Form
$3,046 (as tested) / CANTONUSA.COM
Snapshot
An impressive, reasonably priced system that combines outstanding build quality with superbly accurate sound
Plus
• Highly accurate sound • Top-notch construction • Tasteful Euro styling • Good value
Minus
• Surrounds could use a little more heft • Subwoofer's small size and low amplifier power limit output
Key Features
• GLE 490 ($1,399/pair) 1-in soft-dome tweeter, 7-in cone midrange, two 8-in cone woofers; 41 ¼ in high, 42 ¼ lb • GLE 455 ($499) 1-in soft-dome tweeter, two 6 ¼-inch cone midrange/woofers; 18 in wide, 15 1?2 lb • GLE 420 ($549/pair) 1-in soft-dome tweeter, 6 ¼-inch cone midrange/woofer; 11 ½ in high, 10 lb • AS 85 SC ($599) 9-in woofer, 150-watt amplifier; 10 x 17 ¾ x 14 ½ in, 26 ½ lb
Canton is Germany's largest and best-selling speaker manufacturer. I'd recently checked out the company's DSS 303 iPod sound system (
"What's Up, Dock?"
September 2008) and was impressed by that wonderful bit of Euro-engineering. So it was with great interest that I greeted Canton's new, revamped GLE Series home theater speakers, touted as a "high value" line that uses trickle-down technology from the company's more expensive products.
My review system comprised a pair of GLE 490 floor-standing towers, a GLE 455 center speaker, a pair of GLE 420 surrounds, and an AS 85 SC powered subwoofer. All of the satellites share similar drivers - a good thing, since it helps ensure that the tonality will match all around. The 1-inch soft-dome tweeter found in all the speakers employs a fabric dome, but this new-and-improved version also uses a finer silk material, as well as revised driver geometry, magnet structure, and front plate. And the satellites' midrange/bass drivers use the same aluminum cone material found in Canton's high-end speakers. Finally, the speakers sport a very gently curved front baffle that's said to improve both frequency-response linearity and driver efficiency in the crossover-frequency range.
The GLE speakers all feature attractive punched-metal grilles. And each cabinet's back panel is finished as nicely as the sides. These are particularly handsome-looking speakers - with their aluminum cones clearly visible behind the silvery metal grilles, they'll fit in with the décor of any contemporary listening room.
The GLE 490s - which take me back to the day when men were men, speakers were speakers, and no one had ever heard of an iPod - are classic three-way bass-reflex towers with a tweeter, a 7-inch midrange driver, and two 8-inch woofers. The GLE 420 compact speaker I used for surrounds, meanwhile, sports one tweeter and a single 61?4-inch midrange/bass driver. Since the 420's port is located around back, there's no built-in provision for wall mounting.
The GLE 455 center speaker uses a sealed cabinet with a tweeter and two 61?4-inch midrange drivers. Unlike with some center speakers, there's no way to adjust the cabinet's vertical tilt. The 455 can be used as a horizontal center speaker (which is what I did) or flipped around for use as a front-L/R or rear-channel speaker.
The AS 85 SC powered subwoofer is small by contemporary standards, both in its size (less than 20 inches high) and power (Canton claims 150 watts of "music power"). But it does sport a front-firing 9-inch driver along with a front port. The rear panel has controls to adjust volume, crossover, and phase. You'll also find jacks for stereo/mono line input and stereo line output, as well as speaker-level inputs and outputs. A "normal/narrow" switch compensates for room size by altering the crossover's response (see Test Bench for details).
SETUP
Unless I someday move my comfy chair, the designated speaker locations in my listening room are as rigidly defined as Newtonian physics. I placed the towers along my front narrow wall, about 8 feet apart, and the center speaker beneath my TV. I put the surrounds on my own trusty stands behind my chair and along each side wall. Finally, I placed the sub along my front wall in the spot where experience has shown that I'll get optimal bass response at my listening position.
LATEST VIDEO