A Bug's Life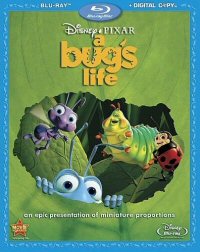 Every Pixar release so far has looked outstanding on Blu-ray, and
A Bug's Life
is the perfect movie to debut our new Ultimate Demo series. The image has impeccable detail in both foregrounds and backgrounds to show off your display's capabilities, and the audio is just as impressive in both scenes highlighted below.
Early in the film, the grasshoppers, led by Hopper, arrive at the ant hill for their food offering. When they can't find it, they invade the hill to confront the queen.

Chapter 4, 0:10:54
Detail, shadow detail, surround imaging
Look at the characteristics of Hopper's face—the wrinkles and crevices, his bloodshot eyes, and the blue and red color of his left cornea
Listen to the fluttering of the grasshoppers' wings and the sound of Hopper's footsteps as he walks around the room
The ants strike back against the grasshoppers in the final act.

Chapter 29, 1:15:40
Blacks, shadow detail, frequency range
Look at the inky black background and the shadows created by the spotlights.
Listen to the screams of the fleeing ants and the LFE as the bird swoops through the crowd.
LATEST VIDEO
WHERE TECHNOLOGY BECOMES ENTERTAINMENT