Bringing the Theater Home Page 4
InFocus ScreenPlay 7200 Like NEC, InFocus is better known in the corporate than the consumer world, but the company has come out with a line of home theater projectors that's competitive in both image quality and price. The top-of-the-line ScreenPlay 7200 is an HDTV-grade projector decked out with extras like Faroudja DCDi video processing and a few custom install-friendly features. While not as slick as the Sharp, it has a nice streamlined look and, at only 4 1/4 inches deep, won't protrude too far from your ceiling. Did I mention it costs only $8,000? - that's a lot of coin, but for an HDTV-resolution video projector, a reasonable price.
InFocus ScreenPlay 7200
DIMENSIONS 13 3/4 inches wide, 4 1/4 inches high, 12 3/4 inches deep WEIGHT 9 1/2 pounds PRICE $8,000 MANUFACTURER InFocus, Dept. S&V, 27700B S.W. Parkway Ave., Wilsonville, OR 97070-9215; www.infocushome.com; 800-294-6400
The ScreenPlay uses TI's Mustang HD2 DMD, which has a native resolution of 1,280 x 720 pixels. Since the chip's aspect ratio is 16:9, you won't have to worry about light spray from unused pixels: this model was specifically designed for projecting widescreen material.
The ScreenPlay's zoom lens let me position it within a 10 to 14-foot range, which was perfect for the room. There are elevation and leveling feet to manually adjust image position on tabletops. Other setup features include horizontal and vertical position adjustments and vertical keystone adjustments.
The ScreenPlay has a wide range of input connections. Along with two sets of wideband component-video connections and a 15-pin VGA jack for RGB signals, there's something called an M1-DA jack that connects to the DVI output on an HDTV tuner, a DVD player, or a PC - but only when you use an optional 10-meter cable with a DVI connector on one end and an M1-DA jack on the other ($59). For custom installs, you also get an RS-232 port, a minijack for an infrared (IR) repeater, and two 12-volt outputs for triggering motorized screens and curtains.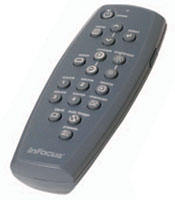 The small remote control has a backlit keypad and a simple button layout. There are four input keys for quickly switching sources and - something I found very useful - controls to adjust brightness and contrast without having to root through onscreen menus. The Preset button lets you cycle through the three custom picture presets, and the Resize button lets you switch aspect ratios. Along with standard 4:3 and 16:9, these include a Letterbox mode that fills the screen by zooming in on letterboxed 4:3 programs and a Natural Wide mode that stretches the edges of nonwidescreen material.
The setup menu offers plenty of options for adjusting the picture. In addition to three color-temperature and five gamma presets, you get Color Control for grayscale adjustments and Color Space for selecting the correct color gamut for high-definition TV, enhanced-definition TV (EDTV), and computer video sources - the default Auto setting selects the appropriate one for you. You can store custom picture settings for each input, and the Preset menu's three custom settings can be recalled instantly via remote control.
After making some needed tweaks to the grayscale, I settled in for another round with The Fast and the Furious. In a scene where Dominic and Brian open a garage door and stroll inside, I was impressed by how much detail was visible in the shadowy interior as bright sunlight streamed in behind them. Tools, engine parts, and old license plates hanging on the walls all came through clearly. In a later scene where the pair drives along the Pacific Ocean, the bright-orange car looked vivid against paler blue-green tones of the sea and brown hills beyond - a testament to the ScreenPlay's extraordinary color accuracy.
The projector's high-def display chip got a chance to strut its stuff with the image montage from the 720p tape of Digital Video Essentials. A shot of delicate lace curtains blowing in the breeze looked remarkably solid, with no trace of "line twitter" or flicker. And in the closeup of the female model, I could clearly see the fine drops of moisture on her skin - a detail that wasn't as apparent on the lower-res Sharp and NEC projectors. But what was most startling about the image was its brightness. The ScreenPlay is probably the brightest DLP front projector in its price category, delivering more than twice the light output of some others I've tested.
It's also packed with features for improving the look of standard interlaced programs. Faroudja processing with two user-selectable modes ensures that programs shot on film and video look equally clean. Another Faroudja feature lets you adjust the level of detail in both the color and brightness portions of the image. With a cable box connected to the ScreenPlay via its composite-video input, a 1970s film clip on ESPN of Evel Knievel making his historic (if insane) leap over Idaho's Snake River Canyon looked passably good. However, a moderately high level of video noise appeared when the projector was fed interlaced signals.
With its bright image, high-def resolution, and true-to-life colors, the InFocus ScreenPlay 7200 is a serious contender for your DLP dollar. In fact, with most similar models costing 10 to 12 grand, it's a steal. The InFocus name might be best known in the corporate world, but if the company keeps releasing projectors like the ScreenPlay 7200, that will soon change.
Let's face it: going to the movies isn't what it used to be. Movie palaces have been carved up into multiplexes, tickets and snacks are way too expensive, and now you even have to sit through commercials before the film starts. I'd say you're better off staying away. And with DLP projectors starting at less than three grand, there's more reason than ever to bring the theater home.
LATEST VIDEO