Bringing Artwork to Life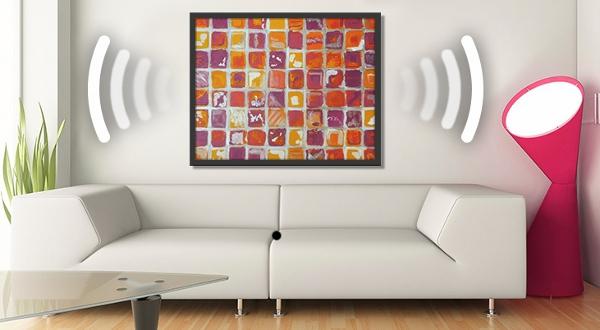 Nestled among the few dozen companies exhibiting at CEDIA 2013's Media Preview was Soundwall, a Boulder, CO-based startup specializing in speakers that masquerade as art (or is it the other around?). The artwork of your choice is printed on a foam-core board mounted in a 2.5-inch-deep frame that hangs on the wall. Left- and right-channel exciters attached to the back of the board (and powered by a small amplifier), vibrate the "canvas," turning it into a speaker.
The system, which connects wirelessly or via Ethernet cable to your home network, supports Apple's Airplay for streaming music from an iPhone, iPad, or Mac and has an RCA input for connecting a Sonos system or other music source.
A selection of mostly modern artwork from independent artists is available or the company can process high-resolution artwork you provide. The Soundwall art panels come in four sizes with either a matte or glossy finish: 24 x 36 inches ($949), 24 x 48 inches ($1,499), 36 x 36 inches ($1,499), and 40 x 60 inches ($2,499). Visit soundwall.co for more information.
WHERE TECHNOLOGY BECOMES ENTERTAINMENT