Boxee TV to Feature "No Limits" Streaming DVR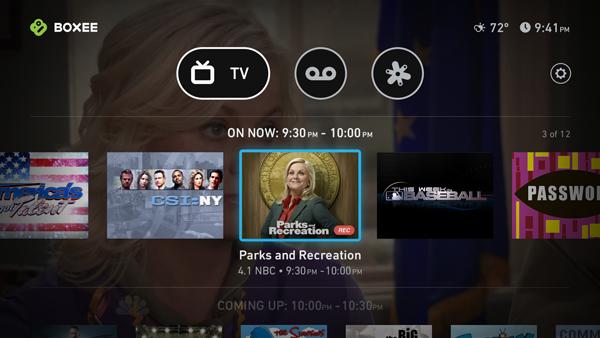 Boxee announced its latest innovation, the Boxee TV that will go on sale in November. Boxee TV has many of the same features of Boxee TV, yet adds adds a dual tuner and DVR function so it can receive and record live TV. What's more, Boxee TV is unique in the way it records and plays back TV shows. Although it has added features, Boxee TV is about half the price ($99) of the original Boxee Box by D-Link.
Boxee TV vs. the Boxee Box
The Boxee Box was one of the first media players that could stream from hundreds of short form video apps, a web browser, and local media. Boxee TV has many of the same features found on the Boxee Box but the Boxee TV menus have been redesigned from the ground up. Review units aren't available yet, but if the screenshots of the Boxee TV are accurate, it will have carousel cover art menus for all videos including the Live TV guides. A carousel guide would be unwieldy for a cable service with hundreds of channels but it works well for Boxee TV that will only receive basic cable or over-the-air antenna channels.
Unfortunately, the Boxee TV will not have some of the Boxee Box's great features for streaming media from video files on your home network. Boxee TV will not include the Boxee Box's extensive global search feature that finds files on your computers, network attached storage (NAS) drives, and other home network servers. The Boxee TV also cuts out the feature that adds metadata--cover art, synopsis, cast and crew inforamtion--to your saved video.
A spokesperson for Boxee told me that have dropped these features on Boxee TV because they believe that people are turning to streaming video online rather than hoarding video files in media libraries on home computers and hard drives. They expect that watching video will follow the trend of streaming music. That is, more people will choose to stream from online video services in the same way that they have turned to services like Spotify, MOG, and Rhapsody to stream music from online.
From Boxee Box Live TV to Boxee TV's "No Limits" DVR
After the success and enthusiasm around this year's release of Boxee's Live TV feature, the company saw that Live TV stations are an important piece of their user's home entertainment. The next logical step would be to add the ability to record those shows.
Boxee also felt that the recordings should be made available on more than our TVs. They should be available to stream to any TV in the house, or to smartphones and tablets whether at home or on the go.
To make the recordings available wherever you want to watch them, Boxee TV store s the recordings in the cloud. When a user records a program, it is uploaded to an online Boxee service. Because Boxee TV doesn't use a physical hard drive to save the recordings, there is no limit to how much you can record. Boxee reasons that this will give its users the freedom to record more shows than they are presently recording, likening it to the transition from shooting photos on film to digital cameras. That is, when taking photos on film we would be careful of how many photos we would shoot. With digital cameras we shoot freely. If you don't have to worry about recording to a hard drive, you can feel free to record and unlimited number of TV shows.
Boxee TV's calls the cloud service "No Limits DVR." While the service may be unlimited in how much you can record, it isn't free. The service will run $14.99 per month (the same price as a subscription to TiVo's Premiere service). It also will not be available to all customers in November. The No Limits DVR will be rolled out slowly. At launch it will be available in New York City, Los Angeles, Chicago, Dallas, Houston, Atlanta, Philadelphia and D.C. More markets will be added in 2013.
As soon as we can get our hands on Boxee TV, we'll test it out and let you know how it fares. The exact launch date in November has not yet been announced.