B&O Play's "Sound Matters" Podcast Is a Masterful Exploration of Sound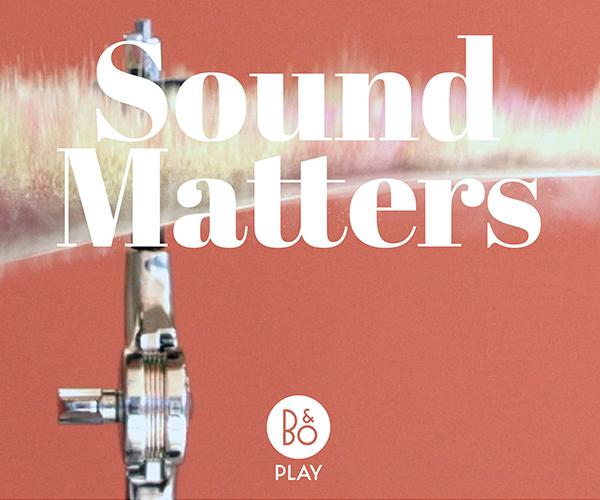 Not long ago, I stumbled across an unusual podcast series, called
Sound Matters
. I had some hesitation before listening to what was, at the time, the most recent episode (
Episode 10: Sounds From Outer Space
) because the podcast series is sponsored by
B&O Play
. As part of the
Bang & Olufsen Group
, B&O PLAY is without doubt a class act—sometimes a pricey one but always classy. So, I should have expected the podcast to be equally genteel. Over the years, however, I've developed a deep-seated distrust of anything with a prominent "sponsored by" or "developed for" tag. For the most part, I'm not too keen on consuming advertorial content.
Quite happily, in the case of the Sound Matters podcast, the only thing that links it to B&O Play is a brief mention of the company near the end of each episode. Other than that, every episode of this award-winning podcast is an intense and superbly produced cranial immersion into the nature of sound from a variety of aspects, situations, perspectives, and milieus. Episode 1, for example, called, "The Sound of Life Itself", investigates the pioneering work of Bernie Krause in the field of soundscape ecology. WTF is "soundscape ecology"? Does this mean we're going to have to start recycling sounds? Are we facing global volume change?
Fortunately, the audio volume level of the planet isn't increasing or decreasing…as far as we can tell, anyway. (This interlude on the effects of global volume change have been brought to you by the new BEOPLAY E4, premium earphones with hybrid Active Noise Cancellation and Transparency Mode. Remember, if you're not listening, someone else is…) Purdue University's Department of Forestry and Natural Resources defines soundscape ecology as the "exploration of sound dynamics in landscapes." It's an incredibly interesting topic, but you really have to hear it to get it. Here's a direct link to the the episode.
Sound Matters says this by way of introduction to "Episode 8: The Good, The Bad & The Smelly":
How can you tell the difference between a good sound and a bad sound? There's not much that's more annoying than to be forced to listen to a bad sound – but what do we mean when we call something a bad sound, and is that bad sound heard and understood in the same way by different people?
How can you resist listening to a podcast with a lead up like that? (I couldn't.) My favorite episode so far, though, is "Episode 12: New Tunes From Old Bones":
Some sounds go back… way back. In this edition of Sound Matters, we travel to a time when the line between making music and making magic meant a whole lot more than putting together your next party mix playlist. Host Tim Hinman takes us to meet musician and composer Barnaby Brown, who specialises in recreating sounds from long-forgotten instruments, and Peter Holmes, an engineer and trumpet player who rebuilds ancient metal instruments, played by ancient civilisations.
If the chance to hear music as it might have been played 30,000 or more years ago is something that piques your interest, stop reading right now and click on the link to listen to Episode 12.
The production values of the entire series are impeccable. The topics are somehow out of the ordinary while also being surprisingly relevant. Host Tim Hinman's narrative style is seductively low-key in a way that I imagine David Attenborough would sound if he were talking about sound ecology rather than elephants or whales for the BBC.
Finally, I must commend B&O Play for making the Sound Matters series possible. Sure, there's a bit of desire to increase the corporate bottom line behind the sponsorship; but the B&O Play folks keep that aspect so totally divorced from the content that it actually makes me feel good when I hear the obligatory "and now a word from our sponsor…" Thanks, B&O Play, for making the series possible; and huge kudos to Tim Hinman (and associates) for making the series such a spectacular acoustic experience.