Blame It on the Emoji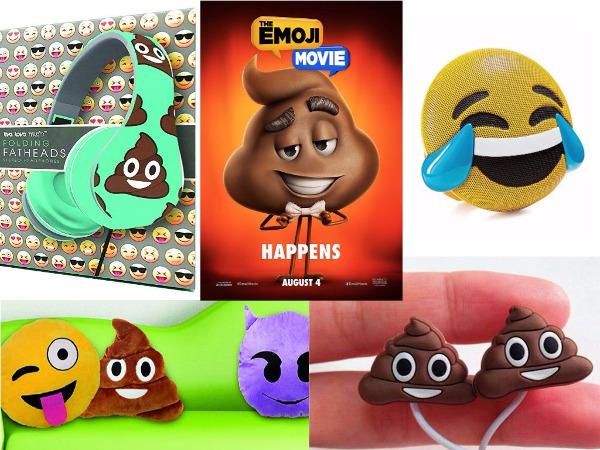 If brown and dirty is your idea of a stocking stuffer, you won't have far to go. Bed Bath & Beyond offers the Bluetooth Poop Emoji Speaker ($20, in brown), while Staples sells the Poop 4K Emoji Powerbank ($15, you already know the color) for charging your phone. And Macy's has the EmojiNation Backpack for little girls and big girls ($35) decorated with a variety of emojis including a poop wearing a crown.
Those planning to give headphones are in for a nice selection of sh*t. After all, who wouldn't want to drape their heads in emblematic doody? Amazon lets you stick it in your ears at least four different ways. There's the LGT Cartoon Earphone 3D Cute Pooh Poop Earbuds ($12); the Folding Fatheads Poop Emoji Headphones ($22.88); the QearFun In-Ear Wired Cute Cartoon Poop Joke Earphone/Earbuds ($10); and the PiHuang-99 Funny Dabbing Poop Emoji Bluetooth Headphones Over Ear, Stereo Wireless Headset ($34). At least the latter substitutes tasteful rainbow colors.
By now you're probably wondering how scatology rose to the top of the shopping cart. Well, here's the thing. There are just so many smartphones you can give. Besides, almost everyone already has one. Social media apps are popular, and so are the pictograms that people use to express themselves with the least amount of work and thought. The problem is that emojis are just rectangles of pixels you download. You can't gift-wrap them. You can't shove them under a sawed-off tree. A company first needs to design them into tangible objects tossable by UPS workers dressed in…brown. Sorry.
Cartoon characters have been made into wholesome toys for decades. But I wouldn't be writing this if it were just about the Face with Tears of Joy Emoji Pillow Case ($15, Amazon). Or Jam Jamoji's Bluetooth speaker separates that look like these emojis: the Kiss, the LOL, the Heart, the Just Kidding, the Love Struck, and the Trouble ($20 each from B&H Photo). Those fortunate enough to collect them all can swap speakers as often as their mood changes.
The universe of emoji-inspired gifts is large enough to encompass sofa cushions decorated by faces with extended tongues or cool sunglasses — symbols that don't necessarily promote a basic bodily function done in private.
The most way-out exploitation of the emoji phenomenon may be the Wingsland Emoji Display Add-On for the S6 Drone. The $20 accessory attaches to your drone so you can showboat the emoji of the moment from the sky. Unfortunately, any commercial blimp above a stadium does it better. The Wingsland LED lattice is low res, monochrome, and so minuscule that only a hovering hawk would get it.
But back to the down and dirty. Two things happened that helped glamorize Number Two. One was a general coarsening of public discourse courtesy of the White House. The other was the release of a major motion picture, The Emoji Movie. The animated film was slimed by critics. Nevertheless, by naming one of its major characters Poop, which incidentally followed in the don't-step-in-it path of Mr. Hankey's trailblazing turd character in South Park, America was further desensitized from the wonderful world of dung.
If you're wondering who plays Poop in The Emoji Movie, well it's Captain Picard/Charles Xavier himself, Patrick Stewart. Just think of the spinoffs in which Poop could star in 2018: Star Drek? eXcrement Men? Can you imagine the merchandising opportunities next go-round? I'd rather not.