Best & Brightest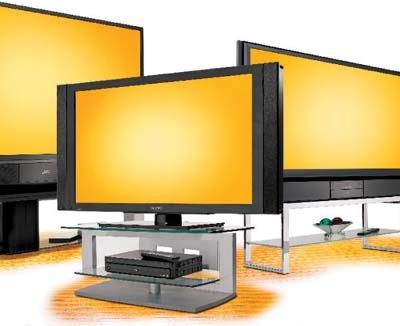 Perfection comes in many shapes and sizes. A snowflake, for example, is a tiny spot of elegance not much bigger than a pencil point. At the opposite end of the scale, the world's tallest building, Taipei 101, explodes into the sky as a series of cascading tiers stretching 101 stories to a spire that ends on a point not much bigger than a snowflake. Both are perfect in their own right, and both stand as monuments to the best the world has to offer.
So, too, do the HDTVs assembled here amount to monuments of sorts. Each is among its maker's best work and reaches for the state of the art in TV design. Pioneer's Elite PR0-1130HD ($6,500) is the top 50-incher from a company that many believe is the best plasma TV manufacturer on the planet. Mitsubishi, long a respected name in rear-projection big screens, shows off in the 62-inch WD-62827 ($5,299), a high-end 1080p DLP set with a built in high-def video recorder. And JVC, which helped blaze the trail for today's LCoS-based displays with its HD-ILA technology, now has its own 1080p models to brag about, including the new 70-inch HD-70FH96 ($6,000).
What We Think

Pioneer PRO-1130HD
Mitsubishi WD-62827
JVC HD-70FH96
Great looks and an even better picture make this pricey plasma worth every penny.
With a big screen, good color, and plenty of detail in dark scenes, this HDTV is a strong contender.
JVC's 70-inch flagship rear projector delivers one of the best pictures we've seen yet on a 1080p HDTV.
Can these TVs achieve perfection? Well, in reality, nothing is perfect. But read on, and you're at least bound to find an HDTV that's perfect for you.
LATEST VIDEO