Beats, Red Courtesy Phone, Please: HTC's Rezound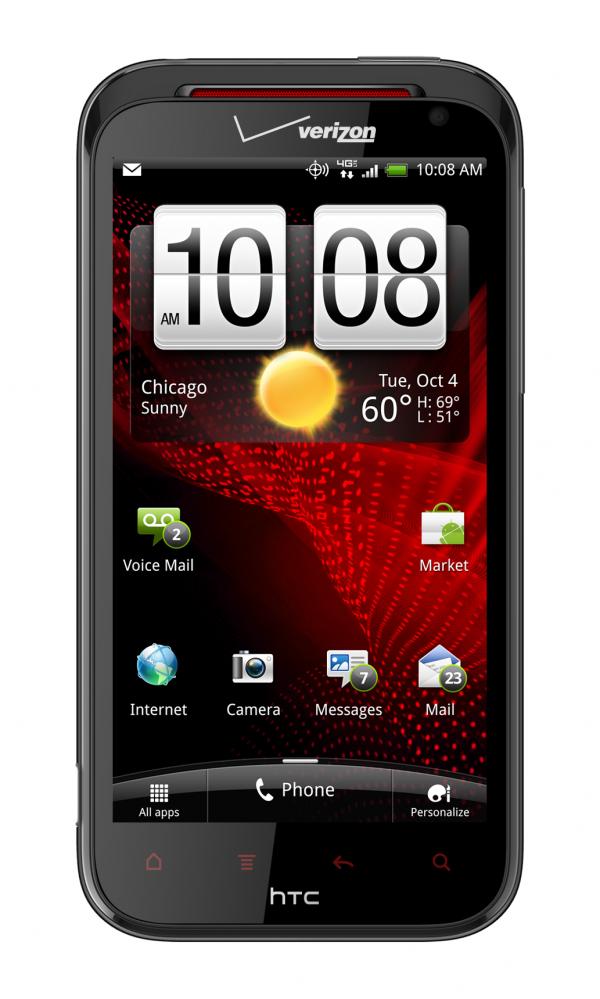 HTC's Rezound, which made its way out to consumers last week from Verizon, is the first US phone to get the full Beats Audio treatment, the specifics of which have been hazy 'til the release of this very device. So has HTC's substantial investment in Dr. Dre and Jimmy Iovine's headphone juggernaut paid off?
First things first. This is an impressive phone by any measure - solid hardware, speedy 1.5 GHz dual-core brains, tangibly speedy, good camera, plenty of storage, Ice Cream Sandwich promised just around the corner - but you can read about all of that elsewhere. If you want a fast phone and you're a Verizon fan, this may be your device, A/V capabilities aside.
But I'm going to skip all of that and just focus on some S+V-specific considerations, since this is being marketed as a media phone, and the first fruit of what will doubtless be an interesting collaboration between Beats and HTC (the Beats partnership with HP's been ongoing since 2009 at this point, so they seem to be able to hang in there for the long haul, thus there's room for development, whatever this particular model and the related Sensation XE and XL models have to offer).
The story here is Beats Audio (on initial startup, the Beats logo comes up even before Verizon's 4G LTE graphics), and the Rezound comes packaged with a pair of Dre's entry-level iBeats earphones, modified somewhat with an iOS-style HTC three-button remote module (very convenient in a world of single-button Android headphones) and outfitted in matte-black trim to match the phone's red-and-black color scheme. (Even the innards under the battery door are finished in translucent red plastic; how's that for aesthetic consistency?) These aren't top-shelf in-ears, certainly, but they're a much nicer offering than you'll find packaged with any other mobile device, and you get four sizes of eartips, though not the flanged versions that you'll find in the iBeats retail package.
Beats Audio, as has been detailed elsewhere, is a set of three EQ profiles - optimizations for the included iBeats (stock iBeats seem to be recognized as well), Beats Solos, and a general profile for other headphones. It's only implemented as part of the HTC music app: it isn't systemwide - i.e., you won't have access to it via the just-refreshed Google Music player or your other favorite Android audio apps. I didn't have a pair of Solos on hand, but the Beats EQ did seem to improve the sound of the packaged iBeats 'phones; interestingly enough switching on Beats gave the iBeats a midrange presence that they were lacking unaltered. I'd been expecting even more boom, so I was pleasantly surprised by this. (I didn't love the earphones on their own, finding them overly bassy and generally dull.) The effect seemed the same with a set of retail iBeats plugged in; Beats Pros got assigned to the generic category, and I preferred to hear those flat, via Google Music, which was my only option for uncolored playback.
Why's that? You can, of course, disable the Beats EQ if you don't like it - but if you're using the HTC player, you can only do so if you're using iBeats or Solos, the phones that probably benefit most from having it on in the first place. Naturally. Otherwise, you can only toggle between two enhancement flavors.
There's another enhancement routine onboard, from SRS, and if you're not using either iBeats or Solos, when you switch off Beats you don't get a flat response - you get SRS's enhancement routine, which may or may not be to your taste. The situation seems like a collision of licensing deals rather than something that was thought through from a usability perspective - and the only solution (if you're not into either effect) is to turn instead to Google's Music or one of the many other Android music apps.
This isn't necessarily a dealbreaker, of course but it's something to think about. If you've already got non-Dre-approved headphones you like, don't have any particular interest in Beats, and don't care for the HTC player's other bells and whistles (such as the slick interface for accessing both local content and music on a networked DLNA server, and it's facility for tracking down YouTube videos from the artist you're currently listening to) this may not be the phone for you.
The same applies to video watched via HTC's HD Watch player - if you use any headphones except iBeats or Solos, you'll have to choose between Beats or SRS enhancement - no bypass is availably. This is a bit of a shame since (with its 4.3" 720p-capable display) the phone is so damned good as a video player, Again, there are other video apps to choose from out there, but the stock player is impressively fast. You can output 720p video (with 5.1 surround) over the Rezound's MHL port, though you'll need to use an MHL-to-HDMI adapter, which isn't included in the package.
There's no enhancement available when playing back over Bluetooth or via the onboard speaker, though the latter would be one of the few situations I'd actually prefer some enhancement. While it wasn't going to fool anyone into thinking it was any more than a phone, for example LG's implementation of DTS over the G2X's built-in speakers was pretty useful in a pinch, greatly improving intelligibility of movie dialogue.
One of the most useful features from a music-player perspective is the new Sense 3.5 lock screen, which lets you place shortcuts on the device's home screen; while playing, you also have access to basic music controls (play/pause and track advance/back) from the lock screen. Seems trivial, but having those controls at your fingertips without unlocking the phone provides an experience much more akin to that of using an iPod, er, Walkman, er. . . dedicated media device of your choice.
And another thing that'll remind you of those products from Cupertino: HTC's desktop Sync app for Mac and Windows lets you synchronize iTunes playlists and the contents of your Music folder with your phone on connection - other Android apps (doubleTwist's AirSync comes to mind), but it's nice to have the functionality out of the box. It'll also sync your iPhoto library, iCal calendars, and so forth and so on, if you don't feel like admitting to yourself that you don't have an iPhone.
I think overall I'm more impressed with the convenience features and the video performance than I am with Beats Audio itself. But if you're looking for a full package for on-the-go music, and you're going to use the included iBeats (which, think what you will of them, are certainly a step up from your average earbud), you may well enjoy using them with the provided Beats EQ profile. Your mileage, of course, may vary. You'll definitely want to get a test listen in.
That said, Iovine says that this phone is "only the beginning," and it remains to be seen in what direction the HTC/Beats partnership will develop. I've got nothing against well-implemented EQ, and I think this one would be much improved with some user control over EQ profiles (a la PowerAMP), or at least direct support for a wider variety of headphone models, not to mention (should those other issues be adressed, of course) global system-level integration of enhanced audio output (especially now that Google Music has reinvented itself as a one-stop shop and player solution).
LATEST VIDEO