Basalte Reinvents the Light Switch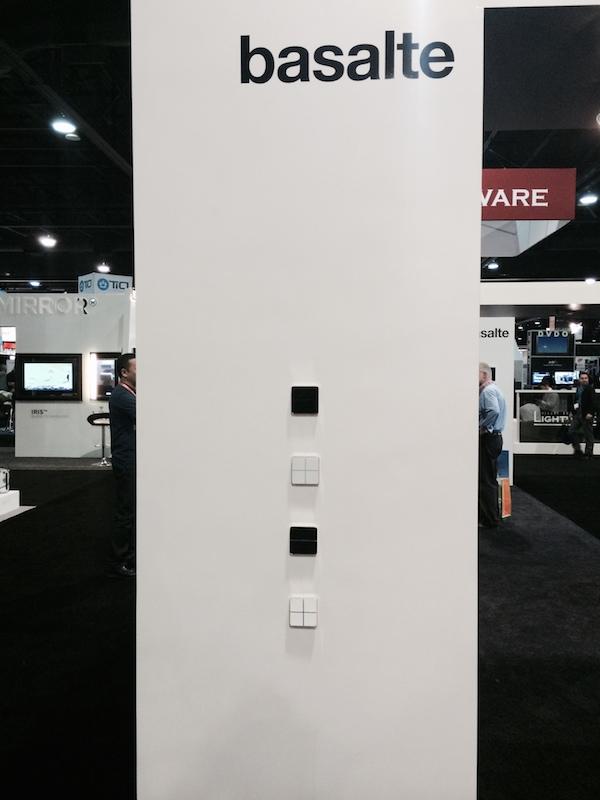 Belgin-based
Basalte's
Sentido is a unique, square-shaped, intelligent, touch-sensitive light switch with a metal-finish front face that's divided into two or four equal sections, each with different functions. Basalte says that the entire switch is touch-sensitive and creates "an easy way of control and a unique user experience." Touching more than one section simultaneously, for example, turns on or off all of the connected lights in the room. The Sentido can be programmed so that a long press of multiple sections will allow the user to sequence through up to four individually programmed light scenes. Multiple Sentidos will be capable of integrating into other companies' smart home systems in the near future. On display was Basalte's bridge adapter for integrating Sentido switches into Lutron's HomeWorks QS systems. Since the Sentido switches do not include internal wireless connectivity, low-voltage wire needs to be run from each Sentido switch to central bridge adapter.
Behind the square metal front is an internal temperature sensor that potentially can be used with smart systems or smart thermostats as auxiliary temperature sensors. The multi-color LED backlight provides status feedback and lights up the switch to make it easier to find in a dark room.
Exact pricing and expected availability in the U.S. were not provided.