Bang & Olufsen BeoSound 8 Is a $1000 iPod Dock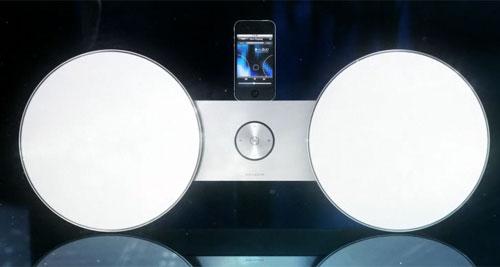 It was just yesterday that we were welcoming in the season for companies to start pushing the proverbial crap out of iPod docks and today we have been introduced to a doozie. For $999, the BeoSound 8 will take music from your iPad/iPod/iPhone or anything else with a headphone jack and project it into your room using a pair of connected speakers.

Like just about everything B&O makes, this dock has an extremely modern (and equally polarizing) aesthetic. They offer both black and white versions, but you can also get different colored speaker covers to help the whole thing blend in better at Wayne Manor.

While the press material isn't the most forthcoming with technical details, it does boast some interesting features. To make up for its rather diminutive size, they have employed their Adaptive Bass Linearisation technology in which they "make use of the surplus capacity in the built-in amplifiers and driver units at normal listening levels, for a bass extension."

It's also equipped with a Room adaptation switch, which customizes the sound output for three different placement options: In a corner, against the wall or freestanding. It's definitely an interesting concept that most value-priced docks would never dream of adding.

The actual dock itself also seems pretty elegant, using a pressure pad that eschews the need for horrible adapters that need to change with your device.

The BeoSound 8 is available now direct from the official site. It'll also be in their stores worldwide starting soon.
LATEST VIDEO