AXIS Makes it Easy to Motorize Existing Shades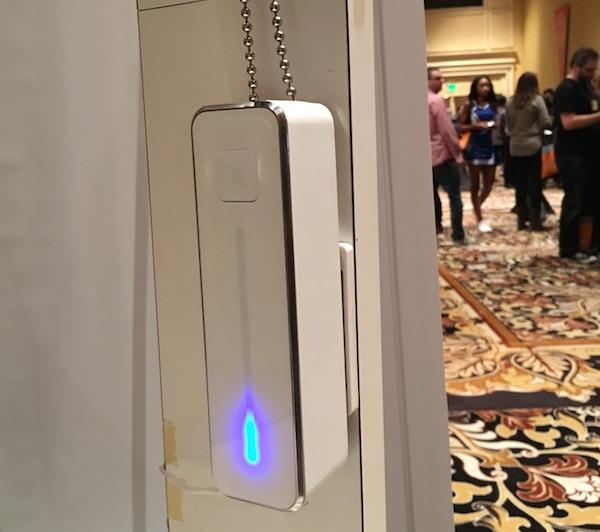 AXIS
says the company's Gear is "the first shading solution designed specifically to motorize existing window shades." In addition to being one of the few devices engineered for use with traditional shades and curtains (basically any window treatment with a "loop" chain or cable), the Gear is one of the simplest, easiest, least-intimidating smart home automation device to install I think I've ever seen.
Gear consists of a motor-driven gear that attaches to the shade's or blinds' chain. In action, when the motor turns the gear (forward or reverse depending on whether the shades are to be raised or lowered), the shade operates in exactly the same manner as it would if you pulled on the chain manually.
Gear is capable of working with roller shades, vertical blinds, roman shades, and curtains. AXIS says the window treatments can be of any brand or any time, regardless of the size or weight. In addition to wireless control capabilities, Gear units are solar powered and come with a "discreet, compact solar panel that fits neatly behind your window shade." This means there is no need for a connection to an AC outlet or regular battery replacements.
The basic Gear model includes Bluetooth connectivity and can be controlled via an iOS/Android smartphone/tablet app. Models with Z-Wave or ZigBee are available for use with smart home automation systems. Gear also includes an illuminated LED touch interface that process an indication of your shade's current position. An oleophobic-coated screen covers the touch interface to help reduce fingerprints, smudges, and blemishes. The most important benefit of the touch interface design, however, is that it provides local, non-smart home/app control of the shade for times when your phone is not handy or your smart home hub loses connection with the its cloud server.
The Bluetooth version of Gear is available now for $199/each. ZigBee and Z-Wave versions will be available shortly for $249/each.