Aura Smart Home Monitoring Senses Disturbances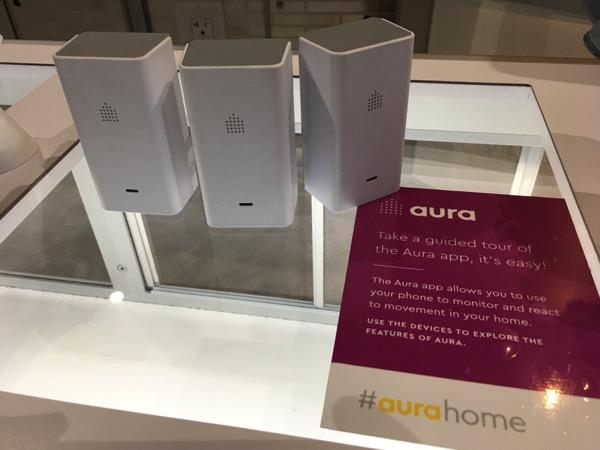 Aura
from
Cognitive Systems
is a dead simple home monitoring system that can be installed in minutes without tools. The system uses a small, rectangular Hub and from one to four identical-looking Beacons that plug into the AC outlets in a home or apartment. The Hub uses Wi-Fi to connect to the network's router for internet access and creates a mesh network to communicate with the Beacons in the system.
Aura is an extremely unusual home monitoring system in that it does not use sensors triggered by heat or light or vibration, as other systems do. Instead, an Aura system monitors changes in the space pattern of the wireless signals (such as the Wi-Fi network) in the home. As people or pets move through the house or apartment, the space pattern is disrupted. Aura is designed to classify the movement (or space pattern disturbance) as people, pets, or mechanical objects, like a ceiling fan. (Aura's people at the company's CEDIA 2017 booth told me that ceiling fans create a surprising—to me, anyway—amount of disturbance in the wireless signal space pattern.) The Aura smartphone app records disturbances, can send notifications, and provides an in-depth report of activity over a period of time. The Aura app uses your smartphone's location services to set up a 300 meter geofence radius around the home, and notifications of departures or arrivals can be sent to the app.
Aura is compatible with many other smart home devices and services, such as Nest, Amazon Alexa, Google Assistant, Philips Hue, and the powerful internet-based automation service IFTTT. Some use examples offered by Aura were as follows:
Amazon Alexa
Set Aura to Home or Away or find out what happened when you weren't home, simply by asking a question.

Google Home
Use Google Home to change Scenes or ask Aura questions about motion in your home.

Nest
With your Nest Learning Thermostat, use motion detection with Aura to get the perfect temperature whether you are home or away.

IFTTT
Take control over your home and connect just about anything to Aura. Use applets provided by Aura, or build your own customized smart home ecosystem. When motion is detected, switch on a light, send a text message, or turn on a camera…
Aura is available is a Starter Kit that includes one Hub and one Beacon and is designed to cover approximately 700 square feet for $199. Accessory Beacons are available for $99/each.