AudioXperts Press Event: Eva Blu Bluetooth Speaker & More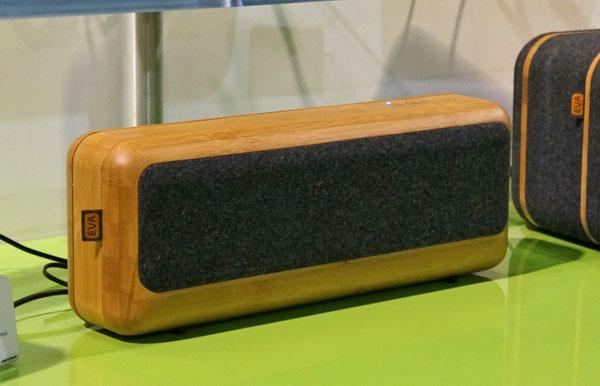 After launching last year with a couple of innovative under-TV sound systems, upstart company AudioXperts made a much bigger splash at the 2013 CEDIA Expo with a full line of audio products, which we saw in a press event this morning.
First up was a newer, smaller, much less expensive version of last year's under-TV systems. The $999 AC121 sits under TV sets of screen sizes up to about 50 inches. The 2.1 system incorporates two 0.75-inch tweeters, two of the company's HART oval-shaped drivers, and two 4.5-inch woofers.
The $399 Eva Blu Bluetooth speaker shown above is made from solid bamboo, so it probably won't have the nasty-sounding cabinet vibrations that plague many compact BT speakers. It has a nice driver complement: two tweeters, two woofers, and a passive radiator to reinforce the bass. In addition to Bluetooth, it has Toslink digital and 3.5mm analog inputs. A rechargeable battery provides the juice, and a handle flush-mounted in the back makes for easy carrying.
The $249-each Views on-wall speaker uses a unique rounded design with a pivoting woofer and tweeter that let you direct the sound where you want. (Yeah, we've seen this in in-ceiling speakers, but not on-walls.) The tweeter is in its own geared pivot, so it automatically turns to a more extreme angle than the woofer. The fabric grilles are available in three colors.
AudioXperts also launched a new on-wall version of its Korners speakers, which is much shorter than the original and costs $499 each.