ATSC 3.0 Ready for its Closeup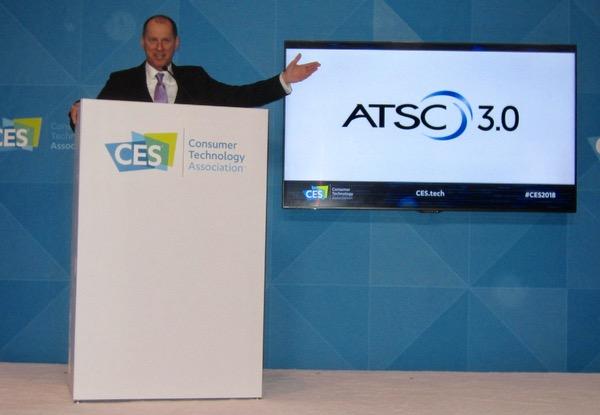 ATSC 3.0 is the new standard for over the air broadcasting, designed to provide for Ultra HD, multi-screen, mobile reception, and a host of other advanced capabilities that our current system cannot support.
As with all things that involve coordination between various bodies—in this case broadcasters, HDTV makers, the FCC, and Congress, it has taken years to complete. But now it's ready to go. Well, sort of. At CES a small hurrah took place commemorating the end of the first step in the journey and the beginning of the next, with a gathering of those who were involved in its creation, including CTA President and CEO Gary Shapiro (shown above).
But no details were forthcoming at the event on the road yet to travel. While the standard is ready, the chips needed to provide these new services (not to mention the gear required at the broadcast end) are still not available.
Don't expect to find ATSC 3.0 capability in TVs (and other products, such as smart phones and tablets, that might make use of the new features) in stores for a year or two. And don't assume available upgrades for current and older TVs, either, though there will likely be a future market for outboard ATSC 3.0 boxes for in-home reception.
With 70 percent of consumers currently receiving their HD broadcasts via cable or satellite (many of them likely unaware of Ultra HDTV and possibly uninterested in it), why the need for this? Because millions of Americans have already "cut the cord," or plan to, going terrestrial to rid themselves of high cable and satellite fees.
Related: