Atmos: Lend Me Your GoldenEar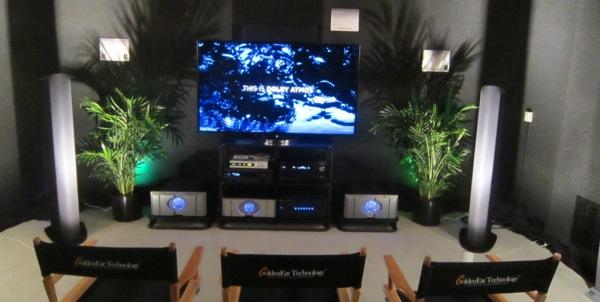 While the JBL Atmos demo remains the champ at the show (at least through the first two days) for shear impact, undistorted output level (in a good way), and immersion from 39 speakers, it's not likely to find its way into too many homes. The Atmos demo from GoldenEar, however, was a more conventional 5.4.4 setup with five conventional channels, 4 true ceiling speakers (no reflective Atmos here), and four subs. It was both impactful and at the same time subtle in a way that will please many audiophiles with at least some interest in home theater. Not that a lot of audiophiles wouldn't covet the JBL (I'll take the JBL for my big room when I win the lottery, and something like the GoldenEar for the smaller!), but the GoldenEar is more practical.
The GoldenEar system used an Oppo Blu-ray player, an Integra Atmos-ready pre-pro, three Pass Labs monoblock amps for the front channels, six other amp channels for the two surrounds and two ceiling speakers (I didn't catch the make for the latter, but it was far more modest and less pricey than the Pass amps). The speakers were the GoldenEar Ones left and right, a SuperCenter XL, GoldenEar Twos for the surrounds, and four Invisa HTR 7000s for the ceiling channels. The four subs were the powered subs built into the GoldenEar Ones and Twos. The levels chosen were loud enough, but sensible, and the experienced convinced me, at least in these fledgling days of Atmos (I remain open minded on this), that true ceiling speakers just might produce the best Atmos results.