Astell&Kern Brings High-Res Home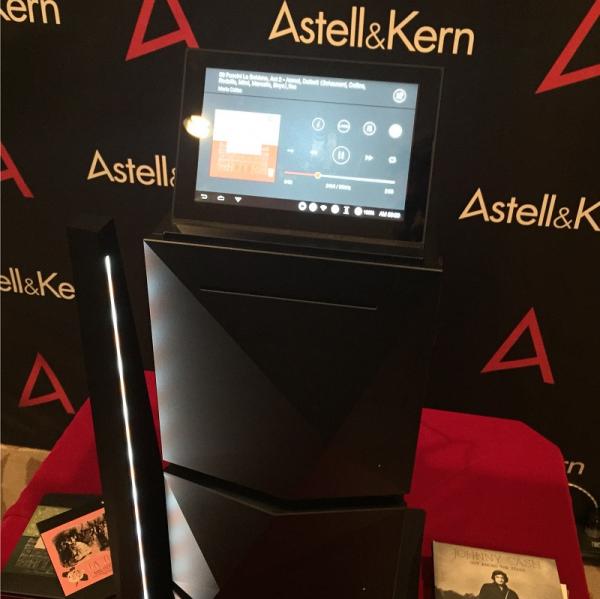 Astell&Kern has made a name for itself with ultra-high-resolution portable music players like the AK240 and AK120, allowing users to listen to their high-res FLAC and DSD audio files while on the road. At CES the company unveiled its new AK500N Ultimate Network Audio Player, bringing audiophile listening into the living room.
The cube-shaped AK500N retains some of the styling elements of the portable units, with a side-mounted volume control that turns with beautiful precision. Atop the roughly 9-inch cube is a 7-inch WXGA touch screen that folds up to allow music selection, providing an easy to browse user interface. A front panel slot rips discs to the solid-state hard drive which comes in 1, 2 and 4 Terabtye versions.
The player will appeal to Astell&Kern's high-end clientele by offering both fixed and variable balanced and unbalanced analog outputs as well as digital outputs via AES/EBU, BNC, coaxial and optical digital. Even sweeter, there are AES/EBU, BNC, coaxial and optical digital inputs that will allow users to take advantage of the AK500N's dual Cirrus Logic CS4398 DACs. The system supports a huge array of file types, including DSD64 and DSD128 as well as 24-bit, 384 kHz FLAC or WAV files. It will also run on battery power to ensure ultra-clean operations, able to run for 20-25 hours off a charge, and then automatically recharging when not in use.
Built-in Wi-Fi and DLNA support will allow the AK500N to pull music from the network and there will be some very cool synergy between the AK500N and Astell&Kern's portable players, letting the devices share content between them. The 1 Terabyte version is expected to retail for $12,000. (Pictures is the AK500N along with the AK500A and AK500P amplifier and amplifier power supply.)