Artison Portrait Home Theater Speakers Page 2
Of course, the Artison LCR pillars are acoustically engineered to take into account the effects that the wall and screen would have on any flush-mounted speaker. For my tests, I simulated wall-mounting as close as possible (without messing up my wall) by placing the TV with the attached LCRs on the provided tabletop stand, then placing that on a low plinth directly against the wall. This put the backs of the speakers about an inch from the wall - essentially the same as if they were mounted on it.
Artison's LRS surround speakers went on my usual high shelves along the side walls, flanking the main listening position. Artison doesn't make a subwoofer, but the company teamed up with Velodyne to supply subs for the Portrait system, from either the Digital Drive Series or the SPL Series II. For a big room like mine, Velodyne recommended the DD-12, a super-compact 12-incher with tremendous power and an onboard room-correction equalization system. As with other subs in the Digital Drive series, the DD-12's crossover can be custom set for the Portrait system via a software download. Of course, you are free to use other subwoofers from other manufacturers as well.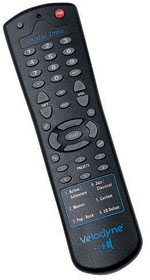 Setting all this up was easier than describing it. I had the Portrait LCRs bracketed to the TV and in place within about 15 minutes. With the DD-12 in my proven subwoofer location a few feet left of the screen and the LRS surrounds on the side walls, I fired up the Artison array and balanced each channel using my preamp's setup screens. Throwing on a DVD - Dances with Wolves - I was instantly struck by the size of the front sonic image I heard, considering that it came from just two speakers barely 4 feet apart. The film's sweeping musical score and wide-open-spaces soundtrack really did sound as if it originated from three front speakers placed substantially farther apart.
Moving on to stereo music, I found the Portrait LCRs impressively capable with only their lower driver arrays operating. Overall balance was very even, perhaps slightly warm, with unusually natural, balanced, and uncolored vocals - I heard none of the midbass lumpiness or hollowness that unfailingly show up when you mount conventional speakers on the wall. As with multichannel playback, the Portrait LCRs put up a surprisingly wide image, materially enhanced by the side-firing tweeters, which you can turn off if you decide to mount the LCRs inside a wall or cabinet. (My advice? Don't.)
LATEST VIDEO