Are Smart TVs a Dumb Idea?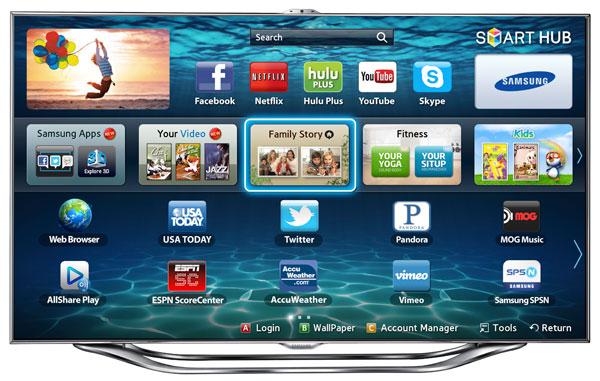 In a recent article by Patrick Nelson on the Tech News World blog
, he makes the case that Smart TVs are a dumb idea and that they will go the way of the LaserDisc. For anyone unfamiliar with the term, a "Smart TV" refers to a TV that connects to the Internet and your home network, using built-in apps for streaming video, music, photos, games, and more.
In the article, Nelson argues that tablets and smart phones will be the primary way we get content in the future. The TV will become a dumb monitor displaying content from our tablets and phones.
I can almost hear the roar from Home Theater readers. While the picture quality of a Vudu HDX movie streamed directly to your TV is actually pretty good, sending that same movie from a tablet to a compatible TV looks much worse because the data is more highly compressed. Now, I must sadly admit that quality has not always been the main factor in determining whether one technology wins out over another; consider the superiority of Betamax over VHS. Still, in the case of Smart TVs and tablets, there are more factors involved than simply quality.
I agree that many people want access to TV shows and movies on their portable devices, but I disagree that most will opt for picture quality that is inferior to what you get directly on a Smart TV. What is the benefit of using a tablet to stream at home? Isn't it easier to use one device (the TV) and one remote?
The fact is that Smart TV models are growing in popularity. As Eric Anderson, VP of Content and Product Solutions for Samsung TV, explains, "Smart TV is becoming an industry standard as consumers demand more access to content. We currently offer 1,500 apps, and consumers around the world access the Smart TV app store 2.7 million times a day. Research firm DisplaySearch also reported that the Smart TV growth rate globally in 2012 is estimated to be 1.5 times larger than 2011, further evidence that consumers are reacting positively. This is simply something a 'dumb TV' cannot offer."
As evidenced by Anderson's stats, when a Smart TV owner discovers that they can get Netflix and other services without having to buy another component, they use it. If accessing streaming Netflix movies is as simple as pressing a button on the remote control, why would someone want to stream it from their tablet? Why add another step when the same apps that are available on a tablet or smartphone are also available on the TV itself?
Let's compare this to the LaserDisc analogy as mentioned in Nelson's article. LaserDiscs were found in only 2 percent of US households. < A href="http://www.telecompetitor.com/abi-20-us-households-have-an-internet-connected-tv/">According to ABI research, around 16 percent of US households have a Smart TV. Whether or not those consumers bought the TV to be used as a Smart TV, it's nonetheless in their home. It is doubtful that a household would find a LaserDisc player in their home unless they had specifically purchased it for $500 or more. (Speaking of which, price was another factor in LaserDisc's demise.)
For the record, I doubt that the LaserDisc could be considered as short-lived as the 8-track tape player or the Divx DVD format of the 1990s (which is different from the DiVX video format of today). LaserDiscs were first released in 1978, and the last one was produced in 2000. That's 22 years. There was an estimated total of 16 million LaserDiscs sold, which is less than the number of times the Samsung app store is accessed in a week.
Nelson points to the failure of Google TV as evidence that Smart TVs will fail. I don't believe that Google TV is an indicator of whether people want Smart TVs or not. In fact, it is evidence that people insist that a Smart TV be smarter. Google TV failed because it couldn't deliver the amount of content that it had promised. Had Google put its ducks in a row and been able to connect to all the networks and other TV and movie content, it would have been a different ball game. Plus, the Google TV platform is not quite dead yet. It will be included on a number of 2012 TV models from LG, Sony, Vizio, and others.
There is no doubt that tablets will be an integral part of the home-theater experience as we move forward, acting as a second screen or media renderer that sends video to the TV. I just don't think that is a strong enough reason to dumb-down our TVs. The idea of a TV as a monitor has been predicted before, but with more people wanting to cut the cord of cable TV and choosing easy access to streaming services, that trend certainly changed directions.
Unlike a technology with a competing format, it is probable that streaming from tablets and Smart TVs will co-exist. It's going to be a while before non-techies will be sitting on the couch with a tablet in their lap. But I bet that same person will be happy to press a button and watch Netflix on their TV. It's much simpler. Still, I don't know the future either. Yes, Mr. Nelson, "we shall see."