The Apps of My Eye: 7 Apple TV Apps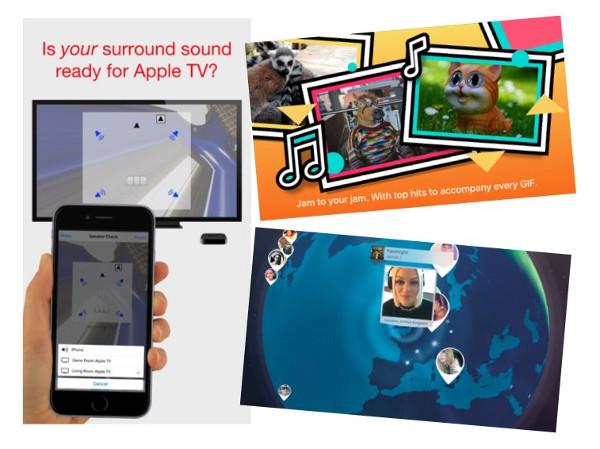 Apps are often referred to as "mobile," which an Apple TV decidedly is not. Fixed to a big-screen TV, the media receiver (Gen 4) and Apple TV App Store offerings are meant to be enjoyed from the sofa, though there are some games and workouts best deployed off the couch. The store has seven departments: Games, Education, Entertainment, Health & Fitness, Lifestyle, News, and Sports. Here are my favorite apps, several of which you've probably never heard of.
Surround Speaker Check – On previous versions of Apple TV, you'd use this handy utility via Airplay from an iPad or iPhone to test your 5.1 system. An onscreen animation lets you verify that your speakers are working discretely and in concert. I was ashamed to discover that I'd reverse-wired my left and right rears. Though the main app is free to download and use, the subwoofer and center speaker checks are 99-cent in-app purchases. (Jeff Perrin Music, LLC)
Sing! Karaoke – Fun on an iPhone but huge in a home theater, the free app lets you sing highlighted lyrics along with off-key amateurs from all over the world. Choosing from among the 100,000 tunes in its library, I crooned to "Want to Want Me" (Jason Derulo) and "When I'm Sixty-Four" (Beatles), among other embarrassments. You can even use your iPhone as a microphone. (Smule)
Strike! Ten Pin Bowling – After sinking only one billiard ball after 15 minutes playing the CPU on Cueist, an app I'd paid $1.99 to download, I decided my true calling was bowling. Strike! Ten Pin Bowling similarly takes advantage of the accelerometer and gyroscope in the Apple TV remote as you stand in front of your TV swinging your arm as if you were holding the controller for a Nintendo Wii. A "Ten Pin Taster" is free to use, but real bowlers will opt for the in-app purchase versions. (Touch Mechanics Ltd.)
Artsy – No mobile device can deliver the impact of a painting as amply as a sizeable, wallhanging TV. What the Artsy app brings to the living room is a window to current exhibitions in galleries and museums around the world. Planning to be in Milan this spring? We found a selection of pieces from four galleries that still will be on display in May. Looking—like the app itself—is free. (Art.sy Inc.)
Jellyfish VR – Virtual reality is best served in a head-mounted display. But the next best thing may be a 3D TV with Apple TV's touch-surface remote that lets you push the picture beyond the bezel. You can optionally split the picture for stereoscopic viewing. Experiencing Jellyfish VR is not unlike getting up close to the jellyfish tanks at the National Aquarium. Not into jellyfish? Alternatively, you can download the Garden Eel VR and Slime VR apps, also free. (Kenshi Do!)
GIFtv: Endless GIF Reel – Give this app seven seconds, and you'll see a loopy video played to music trending on iTunes. See Oprah squint her eyes to "All I Want for Christmas" by Mariah Carey. See a cat wave a paw while Adele sings a bit of "Hello." It's mindless but mesmerizing fun and a prescription for infinite distraction. (MacPaw Labs LTD)
Golden Gate Bridge Flyover – As a gorgeous screensaver, the slow-motion video is built into Apple TV so that there's nothing to get. After some minutes of Apple TV disuse, you'll be soaring above the bridge toward the Marin Headlands. Vehicular and ship traffic is moving below as you marvel at the complete absence of fog. If GIFtv is manic, then the Gate flyover is its pacific opposite.