Why I Love Animation (and You Should Too)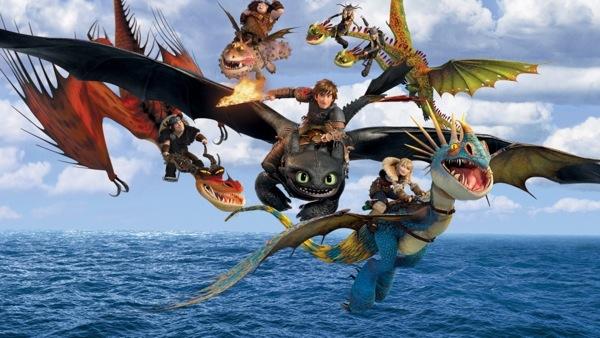 I like to think that have a broad taste in movie and television entertainment. I don't much care for crime dramas, horror, gross-out comedies, or westerns (having lived through the era where westerns dominated evening television). I like historical films (either epics or straight dramas), science fiction, contemporary drama, and animation.
And there can be little doubt that the latter is on fire and in the midst of a new golden age. The first such era was centered almost exclusively on the early work of Walt Disney. It survived for about 25 years, from Snow White and the Seven Dwarfs (1937) to The Jungle Book (1967). I'd argue, however, that there were only six true classics from that period: Snow White and the Seven Dwarfs, Pinocchio, Fantasia, Bambi, Lady and the Tramp, and Sleeping Beauty. Some might add 101 Dalmatians to the list.
But while the mostly Disney animated productions continued for about 20 years beyond The Jungle Book, the studio's output during that period produced nothing universally regarded as a classic.
But in 1989 The Little Mermaid changed all that. Little did we know that it was the start of a new, and even more prolific, Golden Age for animation. We got the first clue when Beauty and the Beast crashed the Academy Awards in 1991 and won a Best Picture nomination. The panic in Hollywood was palpable. Though it didn't win, the risk of an actor-less (voice excepted) Oscar winner led to the creation of a Best Animated Feature category. Animation was thus relegated to an award ghetto, and live performers everywhere slept better at night.
But that didn't stop the flood of new animated movies, many of them latter day classics. And don't call them cartoons—a cartoon is a short of 8 minutes or less. A full-length animated feature film is not a cartoon.
One development that distinguished this new renaissance from the earlier one was the entry of players other than Disney. It was no surprise that the financial success of Disney productions in the early 1990s—with such stunning titles as Beauty, Aladdin, Tarzan, and The Lion King—inspired other major studios, and some minor ones as well, to hop onto the gravy train. But this took several years; producing an animated feature is a slow, tedious, expensive process.
But when computer animation hit big, virtually replacing the hand-drawn variety that had long dominated the field, the floodgates opened. Newcomer Pixar, with Disney signed on for its distribution, became the new champion. Another fresh face, Dreamworks SKG, soon became another prolific producer, differing from Disney with more overtly topical and edgy (but hardly R-rated) content, such as Shrek. And with significant but less prolific competition from the big studios (20th Century Fox with its Ice Age franchise, Universal with Despicable Me and its offshoots, and others), the number of animated titles has become breathtaking. Fans of animation hope it will never end, though the history of Hollywood suggests that it might, at some point, run out of steam. Like sequels, however, the train will travel as far as the public pays for the ride.
A persistent phenomenon in all of this is the reaction of many adults to animation. Some wouldn't be caught dead watching such films unless accompanied by a rug rat or two. Animation is for kids, right?
Yes, kids are the core market, but there's so much more in most animated films. Most (but not all) are among the funniest movies being produced today.
Wrong. Yes, kids are the core market, but there's so much more in most animated films. Most (but not all) are among the funniest movies being produced today. Live action comedy has become largely a gross-out genre, with nothing, it appears, stopping it from slicing through the good-taste envelope. But writers of animated films, who cater to a broader audience, have to be more creative. And they are. From the
Shrek
films to such Disney fare as
Hercules
, animation can tickle the funny bone of viewers from 8 to 80.
Many home theater fans also know something else about the best animated films: They often offer striking visuals and spectacular sound. The reason for the latter is easy to understand; freed from the limitations of live action, the production team has total control of the audio mix. Some of my favorites here include the opening five minutes of Bolt, the opening "Circle of Life" sequence in The Lion King, the trial and "Sanctuary" scene in The Hunchback of Notre Dame (where Quasimodo rescues Esmeralda), the climactic sequence in Shrek 2 (where the fairy godmother sings "I Need a Hero" as a transformed Shrek and Donkey rescue Fiona), and almost any scene from How to Train Your Dragon.
I could go on, but even an animation skeptic should be able appreciate the audio on many animated films. That includes the music score as well, from the great scores and songs that peppered Disney films from the early 90s to the most recent efforts—yes, even including "Let it Go" from Frozen. I'll admit that the latter has been It's-a-Small-Worlded to death. But it's also a genuine show-stopper when linked to the film's stunning visuals.
The same praise is due to the images in many animated movies. At their best, they can outdo almost anything possible in live action—though CGI has done much to enhance (though sometimes damage) what can be done in both genres.
Japanese Anime fans might complain that I haven't yet mentioned that style of animation here. But it's truly a separate field onto itself. I'm not a major fan, but have a few Anime titles in my collection (Princess Mononoke, Spirited Away, Steamboy, Ghost in the Shell) and recognize that it has a strong following.
Sadly, almost nothing I can say will convince the animation-phobic to give it a serious look. But a few titles might give the open-minded skeptic a nudge in the right direction. With about 65 titles making up a bit more than 10% of my Blu-ray collection (and a few stragglers on DVD as well) choosing s few favorites wasn't easy.
Not a Fan of Animated Movies? Here's 7 That Will Change Your Mind
The Lion King – If you can get over animals talking and singing in movies (and it's easier to swallow if there are only animals, as here, and not animals talking to humans) and still can't warm up to this variation on Shakespeare's Hamlet, there's likely little hope for you. This film also offers superb sound for a now 20+ year-old film. (Musical)
Beauty and the Beast – Also mentioned earlier. Not my personal favorite, but it's hard to resist. (Musical)
Toy Story – The 1995 computer-animated production that produced an animation revolution. Still a charmer, and while its CGI is primitive by today's standards, it's still convincing. When I first saw it in a theater I was grinning throughout the film from ear to ear. Toy Story 2 and (in particular) Toy Story 3 are more than worthy sequels with better CGI, fleshing out what is now a classic trilogy. (Not musicals) P> BoltM – One of my favorites, and confirmation of the old saw that you should never follow a dog act—even, as here, if it's a dog who thinks he's a real action hero rather than just a TV performer. Includes two of the best and funniest sidekicks in the history of film: a hyper hamster and a crabby cat. (Not a musical)
Tangled – Perhaps my favorite Disney animated film of the past few years, and one I pull out frequently for demo purposes. Beautifully rendered animation together with a beautifully recorded (even though only fitfully spectacular) soundtrack. (Musical)
Shrek – Just see it, OK. (Not a musical)
The Hunchback of Notre Dame – Not an obvious choice but unique in that it's the darkest of the 1990s Disney animated films—and one of the darkest Disney films ever. The humor and weird sidekicks for the hero (stone statues!—are they real or just his fantasy friends?) can't gloss over adult (but not R-rated!) themes, most of which, fortunately, will zip over the heads of youngsters. But they might well be puzzled, and perhaps a little terrified, by the images in the song "Hellfire!" (Musical)
How to Train Your Dragon – Just spectacular, and officially one of my favorite animated films. Great artwork and design (though not as jaw-dropping beautiful as the Kung Fu Panda movies from the same studio) and spectacular sound. (Not a musical)
More recommendations? Be our guest.