Amazon Taking Pre-orders on Fire TV Stick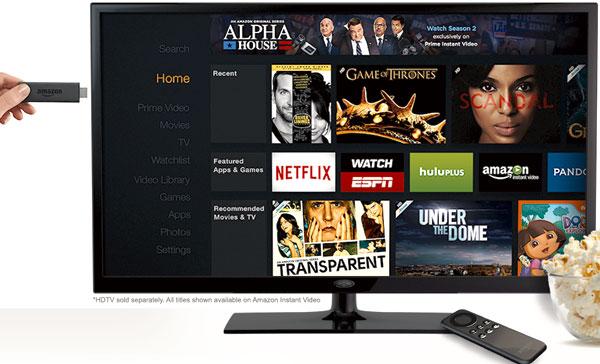 Amazon is taking preorders for its Fire TV Stick that will be released November 19. Before you add it to your holiday gift list, be aware that the initial offering was so successful that the Stick won't ship until mid-January. Following the success of last April's Fire TV release, Amazon is looking to take on the Roku HDMI stick and the Chromecast dongle, with its $39 stick.
Despite its diminutive size, the Fire TV Stick is packed with power. The flash-drive-sized streamer has a dual-core processor with six times the processing power of the Roku Streaming Stick. Its dedicated VideoCore4 GPU will handle up to 1080p high definition streaming but is not ready Amazon's upcoming 4k offering. The Fire TV Stick is the only dongle that is capable of Dolby Digital Plus 7.1 (if your TV connects to your home theater using HDMI Arc or if it is connected directly to your AV receiver).
The Fire Stick is Amazon's next product to take advantage of Amazon Prime membership. Prime membership includes a large library of streaming movies and TV shows along with a subscription-like music streaming service. As the Fire Stick has already sold out, it looks like it should outperform Amazon's dismal release of the Amazon Fire phone. (I'm probably the only person who was sad to see it fail.)
The Atick has most of the features and apps available on the full-sized Fire TV with the exception of title and content voice search using its remote control. Where the Fire TV has a microphone built into its remote, you'll need to use the microphone on your smartphone's Fire TV app to search for movies and TV shows on the Fire TV Stick. Amazon will sell the voice remote as an optional accessory. The Stick will include Amazon's "Advanced Streaming and Prediction" (ASAP) technology that "pre-loads" movies it thinks you might want to watch based on your viewing habits.
It looks like the Fire TV Stick may be the best dongle to take on the road. The Amazon site states that it will soon include compatibility with hotel and school captive portals (log-in pages). As the Stick is also Miracast-enabled, it is a small and convenient device for mirroring an Android phone.
If it performs as promised, it may replace the little purple stick (Roku Stick) that I carry in my purse.