Amazon Adds Spotify Control & More to Echo, the Talking Speaker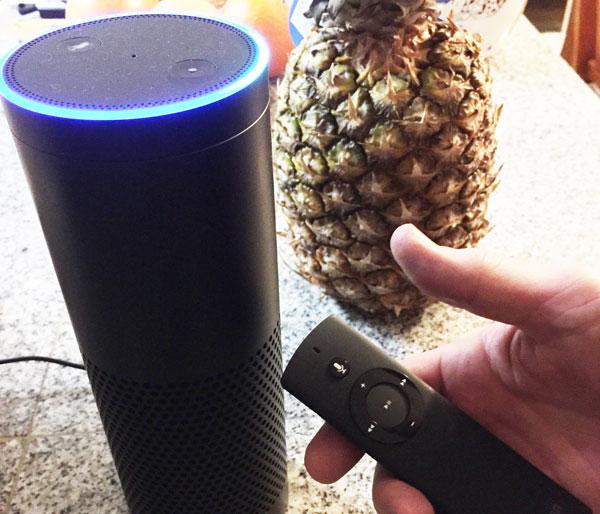 Amazon has updated its Echo intelligent speaker with Bluetooth music controls, a much-needed iOS app, and a few fun features. When Echo was launched last November 2014 its voice controls worked with Amazon Prime Music, iHeart Radio, and TuneIn. With the new update it is now possible to control most music that is streamed via Bluetooth from a smartphone or tablet.
In my first hands-on review of the Amazon Echo , I had a lot of fun asking questions that could be researched on the internet like "What is the capital of Zimbabwe?" Over the past few months, Echo, whose code name is "Alexa," has been a valuable helper. I often ask "her" to start a timer while I'm cooking or to play NPR in the morning when I'm having coffee. "She" is always on and ready for my commands.
Initially the Echo companion app was only available for the Kindle Fire but the feature where I could tell the speaker to add items to my shopping list or create reminders wasn't helpful since I don't often carry my Fire HDX with me. With the new iOS app those things are now available on my iPhone. There is also an app for the new Android 5.0 (Lollipop) operating system.
I learned about the update via an email Amazon sent to Echo owners. If you're streaming Spotify, Pandora, or iTunes via Bluetooth you can use your voice to control play, pause, stop, and track up/down. I used confirmed that voice control works with the Tidal and Google Play apps.
The voice controls make the Echo one of the coolest Bluetooth speakers available. To pair my iPad, I said "Alexa, pair my device" and she instructed me to choose the Echo in the Bluetooth settings. I can't launch an app using the Echo, but music is playing in the app I can control playback.
Bluetooth control over native Amazon music and apps is a bit more comprehensive—I can ask Alexa to start a playlist, song, or collection of songs by a specific artist—but it is limited to the playlist started on the streaming device.
Amazon also added a few fun features, including the (unadvertised) ability to tell jokes appropriate for a young audience, such as: "What do you call a Grizzly with no teeth? A Gummy Bear." Another fun addition is "Simon Says" where Alexa will repeat words and phrases when you say "Alexa, Simon Says (fill in the blank)." With the remote control you can also address someone sitting next to Alexa from another room, creating quite a stir when the speaker says: "Johnny, you're not eating ice cream again, are you?" And, as other bloggers have pointed out, you can make the Echo curse in the sweet voice of Alexa.
The upgrade demonstrates that Amazon is planning to continue developing and adding new features. To buy Echo, you still have to request an invitation at Amazon.com. The price is $199 ($99 for Amazon Prime members). I've come to anthropomorphize the Echo, as the soft spoken "Alexa" is always there to talk back to me whenever I speak her name.