All Together Now: Korus Speakers Connect to Your Music in a New Way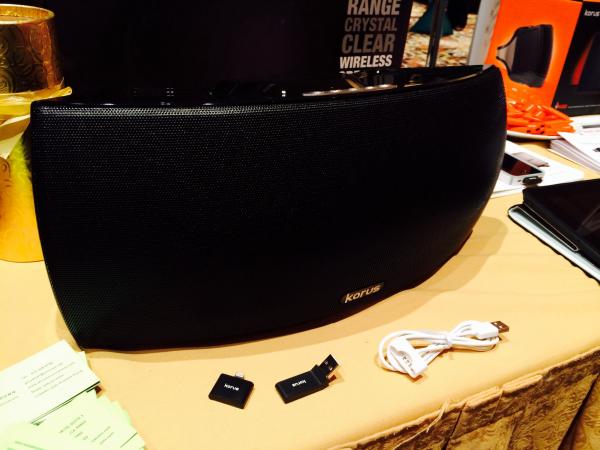 Just when you thought you had found every way possible to connect your audio devices to portable speakers, Korus
introduces their premium wireless speaker system
. But wait! They're not Bluetooth! Bucking the Bluetooth trend, Korus connects your device via the proprietary SKAA protocol which actually sends a signal from a plug-and-play dongle at a claimed near-zero-latency (40ms). The dongles come in every (30 pin/USB/lightning) configuration you could need and can broadcast to up to 4 separate speakers. Inside, those speakers can be up to 35 feet apart, outside up to 65 feet apart. The distance itself is rather impressive as most Bluetooth gets a few yards at best before beginning to crackle and sputter. Also potentially handy is the fact that the dongle is literally plug in and press play easy to use. So no pairing with devices or entering passwords. What comes out of the device to which the dongle is attached is what you hear in the speakers. And because of the low latency, the Korus can also be used in conjunction with a TV specific dongle (they call it a Baton) to create a temporary TV speaker setup for a meeting, or as a permanent/ modular solution for TVs that have small speakers.
Available in two sizes
, the V400 is 4.4 lbs with a low range of 125Hz and retails for $299 each, and the V600 is 11 lbs with a low range of 80Hz for $399 each.