All Boxed Up, Ready to Give Page 2
CDs
THE ROLLING STONES Singles, 1963 - 1965; 1965 - 1967 (ABKCO, $60 each)No. of CDs: 12; 11 What's the big deal? Hot trend: take old singles and put each A- and B-side together on one CD, slip each disc into a cardboard sleeve that replicates the artwork of the 45-rpm release, and box 'em all up. The first set here has everything from "Come On" to "The Last Time," and the second continues with "(I Can't Get No) Satisfaction" and ends with "In Another Land." Bonuses: Each set has picture cards and a booklet of notes, photos. Second box adds a poster.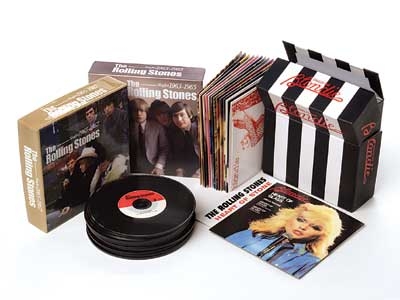 BLONDIE Singles Box (Capitol, $47)No. of CDs: 15 What's the big deal? Like the Stones sets, you get all the (Chrysalis) A- and B-sides, from 1976's "Rip Her to Shreds" to 1982's "War Child." Bonuses: Remixes and rarities.
NIRVANA With the Lights Out (Geffen, $N/A)No. of CDs: 3 + DVD What's the big deal? The widow Courtney and the survivors Dave and Krist have stopped fighting long enough to finally allow the release of this box of rarities. Bonuses: Unreleased tracks (including Kurt Cobain's demos) and a 60-page booklet. On DVD: live footage, including a 1987 house party.
MICHAEL JACKSON The Ultimate Collection (Epic, $60)No. of CDs: 4 + DVD What's the big deal? It's a complete overview, all the way from 1969's "I Want You Back" to the newly issued "We've Had Enough." Bonuses: 13 unreleased tracks plus various U.S. and U.K. rarities. On DVD: an unreleased 1992 concert from the Dangerous tour. "Deluxe display book set" includes essay by Nelson George.
PAUL SIMON The Studio Recordings (Warner Bros., $150)No. of CDs: 9 What's the big deal? It has every album from 1972's Paul Simon to 2000's You're the One, all digitally remastered for the first time. Bonuses: 30 unreleased tracks, including demos, alternate versions, and six unissued songs.
GRATEFUL DEAD Beyond Description, 1973 - 1989 (Rhino, $150)No. of CDs: 12 What's the big deal? It picks up where The Golden Road left off, collecting the ten official studio and live albums from Wake of the Flood to Built to Last, all remastered by Joe Gastwirt. Bonuses: 68 unreleased tracks, including rehearsals, outtakes, alternate versions, and live cuts. Comprehensive liner notes and a separate essay for each album.
FACES Five Guys Walk into a Bar . . . (Warner Bros ./ Rhino, $60)No. of CDs: 4 What's the big deal? This overview has Ron Wood before the Stones, Kenney Jones before the Who, and Rod Stewart before the fall. Bonuses: Nine non-LP sides plus 30 unreleased tracks, including live BBC appearances, "studio shenanigans," and "hotel-room gems." The 60-page booklet has reminiscences by Ian McLagan and an essay by Rolling Stone's David Fricke.
MILES DAVIS Seven Steps: The Complete Columbia Recordings of Miles Davis 1963 - 1964 (Columbia/ Legacy Jazz, $130)No. of CDs: 7 What's the big deal? In these transitional years, post- Kind of Blue and pre- Plugged Nickel , the trumpeter was backed by the likes of Wayne Shorter, Herbie Hancock, and Tony Williams. Bonuses: Eight unreleased and three unedited tracks. Liner notes by Bob Blumenthal.
CAN'T YOU HEAR ME CALLIN' Bluegrass: 80 Years of American Music (Columbia/ Legacy, $50)No. of CDs: 4 What's the big deal? It's the most comprehensive overview of bluegrass ever attempted, from 1925 (Charlie Poole) to 2002 (Dixie Chicks). Bonus: Essay by S&V's Billy Altman.
DOCTORS, PROFESSORS, KINGS & QUEENS Big Ol' Box of New Orleans (Shout! Factory, $60)No. of CDs: 4 What's the big deal? It's the most comprehensive overview of New Orleans music ever attempted, representing everyone from Professor Longhair to Galactic. Bonuses: A gumbo of essays, with travel tips like "Things to Do That Are Totally Uncool and Are Usually Done by Tourists and Drunk Conventioneers but Actually Are Quite Fun."
LATEST VIDEO