Alexa Comes to the Car on the ROAV VIVA USB Charger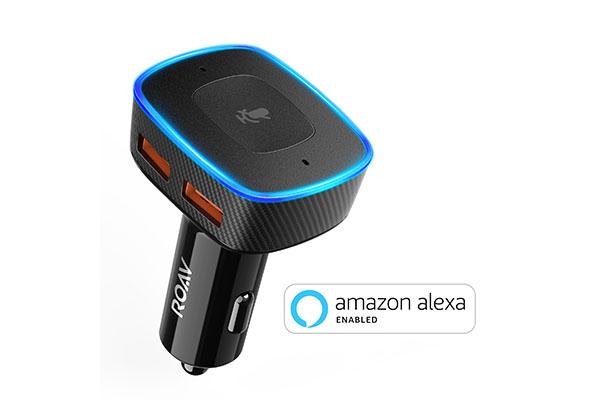 Alexa voice control is now available for any car in the ROAV VIVA USB Charger by Anker. Alexa adds control in the car as well as remotely controls Alexa-enabled devices in your home.
The VIVA plugs into a auxiliary charger port in your car (aka cigarette lighter) and can charge two devices with its high speed charger. But its the addition of Alexa that makes this a must have car accessory. The VIVA connects to a Bluetooth enabled car system to play music, read news, speak directions, answer questions or play games over the car speakers. It also must pair with a phone so you listen through the phone if its not available in an older car stereo.
Tens of thousands of Alexa skills are available on the VIVA including ordering pizza or coffee, getting directions from Apple Maps, Google Maps or WAZE. It can control and play music from Amazon Music, Pandora, iHeartRadio, Sirius XM and TuneIn (and will add Spotify early this year).
The charger uses your phone for data connectivity to the cloud so it can communicate with your Alexa-enabled devices at home. Turn on lights, tell your Nest to turn up the heat, open the garage door and unlock the front door before you get out of your car. With the number of new devices that support Alexa control, you can get things done--vacuum, start the oven, listen to your favorite news and sports, even if you get stuck in traffic.
The best part is the device isn't expensive. It can be ordered now from Amazon for $49 with delivery expected in early February.