Acoustic Treatments: Ugly Duckling No More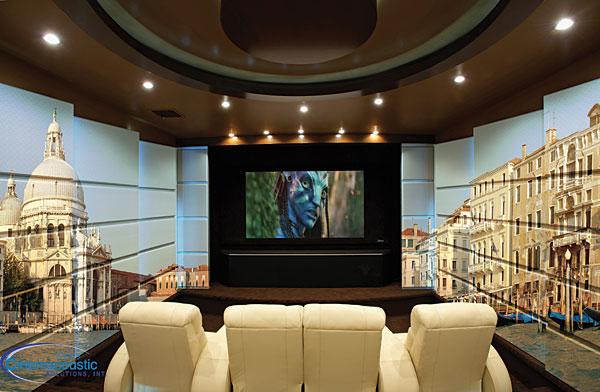 Acoustic treatments have long been considered home theater eyesores. While they're essential to sound quality, their lack of style, to put it nicely, has left a lot to be desired. But many manufacturers have realized you can have it all and are now offering more aesthetically pleasing options. The gaudy panels of the past have undergone a little nip/tuck and are ready for their close-up. Here are five examples.
Cinemacoustic Solutions designed this room for a couple who exchanged vows in Italy. The newlyweds wanted to re-create their experience drifting through Venice on a gondola in their home theater. These Cinema Imagery panels allow the company to create an immersive environment based on anything the client can imagine: ocean scenes, mountains, rain forests, sports arenas, favorite vacation spots, and more. Cinemacoustic Solutions literally burns the image into the weave of the panel's fabric, which helps to maintain the acoustic transparency and ensures the integrity and full effect of the absorptive, diffusive, or reflective material behind the fabric.
Auralex Acoustics' ProFusor II fabric-wrapped sound diffusor helps with issues of flutter echo without removing acoustic energy in the room or greatly changing the frequency content of the sound. This engineered quadratic residue diffusor is available in two sizes (ProFusor22: 2' x 2' x 3", and ProFusor24: 2' x 4' x 3") and five fabric color options (Ebony, Pumice, Mesa, Sand, and Shadow). ProFusor's 3-inch depth and decorative fabric allow it to fit nicely into many attractive custom designs.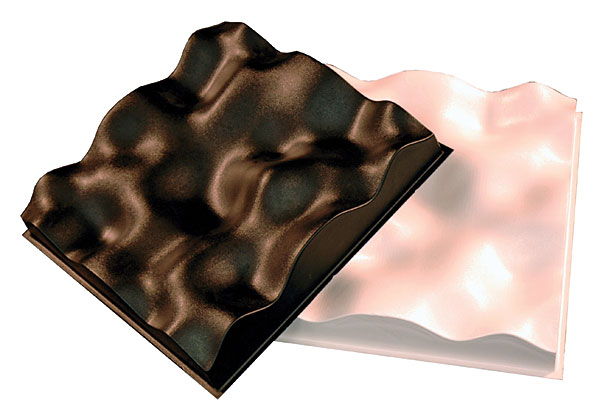 The Harmonix-K diffusor from RPG is designed to provide a more uniform soundfield through mid- and high-frequency diffusion. Its flexible, thermoformed construction offers low-frequency absorption via membrane resonance. Drop it into a standard T-bar grid or mount it flush to a wall or ceiling. The Harmonix-K is available in a slightly textured, white satin finish, or custom color units.

Vicoustic's Wave Wood absorption panel is made from a combination of acoustic foam and wood. Its non-linear sequential cavities are not only stylish, but they enable Wave Wood to act as both an absorber and diffuser. Specifically developed to treat acoustic problems without destroying a room's ambience or over-deadening the sound, Wave Wood can also be used to control low frequencies when placed in the corners of a room and used as a bass trap. It is also effective in treating medium and high frequencies as well as solving issues such as flutter echoes. Wave Wood is available in Black, White, Nordik, Light Brown, and Cherry finishes.
Audimute's fabric sound panels—available in standard, designer, and custom fabric—are particularly effective at absorbing mid and high frequencies. Made from eco-C-tex (a blend of recycled cotton and cellulose fibers—the majority of which is post-consumer recycled newspaper), the absorption panels offer an eco-friendly alternative to traditional fiberglass insulation. The durable, fabric-wrapped frame of lightweight metal hangs in seconds, like a framed picture, using a panel wall clip (one clip per panel is included with your order).