5 Favorites for the Golden Age of Podcasting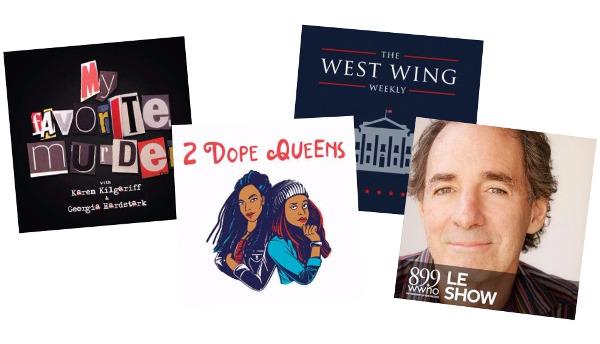 Radio has been around for so long that to call it "new media" would be oxymoronic. Yet today's smorgasbord of podcasts, a.k.a. radio on demand, now reaches a burgeoning audience of mobile users, many of whom assume AM only refers to time.
Much like how the automobile expanded listening from parlor to highway, the smartphone has extended podcast play from desktop to shirt pocket. According to Triton Digital/Edison Research, in 2013, 58 percent of users listened to podcasts on a PC and 42 percent on a mobile device. By 2016, shares had shifted to 29 percent on computers and 71 percent on mobile devices.
That same research outfit estimated that as of 2016, 36 percent of Americans age 12 and older had listened to a podcast versus just 27 percent in 2013.
The podcast series that put the category on the map was fittingly named Serial, a true crime tale that debuted in 2014 and unfolded in weekly episodes. Suddenly, commuters in buds weren't just plugged into music.
As a fan of the spoken word, I subscribe to a variety of weekly podcasts. I favor long-form news programs, monologists with agreeable politics, and two-person conversations. Here are a few of my favorites that you may want to sample:
The CBS Weekend Roundup, a 40-minute digest of the week's news with limited commercial interruption. Also broadcast over the radio in some cities, I deploy the podcast in an activity I call the Weekend Workout. One touch to my screen, and I'm off, transfixed on treadmill or track, rural road or park-side path. With buds affixed, the news of the week may be bleak, but it's diversion from leg cramps I seek. The show is posted every Friday evening and can be downloaded from the CBS Radio News app and iTunes.
Le Show, a one-hour monologue with skits hosted by comedian Harry Shearer (Derek Smalls in This Is Spinal Tap, Ned Flanders and Principal Skinner on The Simpsons). The commercial-free show, which regularly features the Apologies of the Week and News of the Warm, has been heard on NPR stations since 1983. Longtime radio listeners will recognize Shearer's non-stop style as similar to that of the late Jean Shepherd. The show is posted every Sunday following its broadcast on many NPR stations. Available from the Public Radio app.
The West Wing Weekly is aimed at fans of the Aaron Sorkin series, The West Wing (NBC, 1999-2006). Co-hosted by one of its stars, Joshua Malina (Will Bailey), the talkfest offers behind-the-scenes minutia, one episode at a time, along with clips from the original show. The ad- and "merch"-supported series is available on iTunes and at thewestwingweekly.com.
2 Dope Queens, hosted by the comedians Phoebe Robinson and Jessica Williams, can be really annoying. But it also can be quite funny as the two discuss, often before a live audience, a wide range of topics including sex, romance, race, hair, and living in New York. Produced by WNYC Studios, you can subscribe to the show via iTunes or get it on the WNYC app.
My Favorite Murder is an example of a grassroots series that, unlike some of the ones above developed by broadcasters, seems to have slid off the sofa of Karen Kilgariff and Georgia Hardstark, sitting around gossiping. In each episode, they examine a grizzly crime, though typically while meandering onto unrelated topics. They regularly use the "F" word, even during commercials. Available from iTunes and at feralaudio.com.
Considering the multitude of podcasts available, many aimed at narrow interests from kite-flying to knife-fighting, you should have no problem tuning a customized play list. And when a show doesn't meet your expectations, no problem. "Delete" is always a tap away.