40 Years of SNL in a Streaming App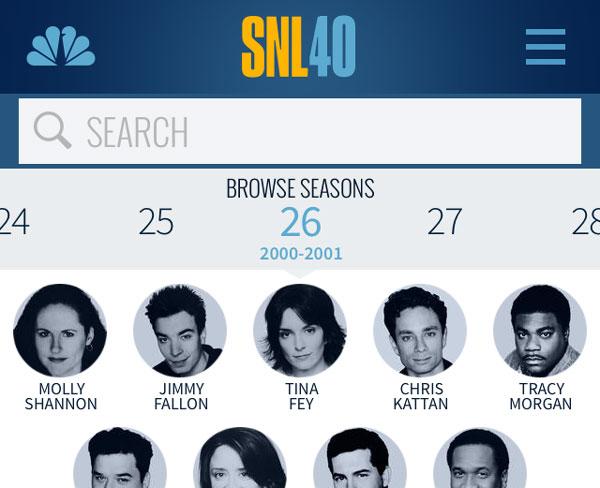 NBC Entertainment has just launched an app that allows fans to watch many of the famous, beloved
Saturday Night Live
sketches from the past 40 years. The recent 40th anniversary
Saturday Night Live
special on NBC was a mere tease, as only few of the original skits were shown in their entirety. Now that the network has sufficiently whetted viewers' appetites, it has released the free SNL iPhone app.
This is not your average streaming app. It plays personalized queues based upon viewing habits, lets you create a favorites playlist and has the best browsing experience I've seen.
The app is currently for iPhone only but can be mirrored to an AirPlay compatible device to play on television. Most of the oldest clips are standard definition and don't stream well from the phone. New clips, episodes and "Cut for Time" videos are better quality, as they can be directly streamed via AirPlay without mirroring the phone. Longer videos and episodes include commercials.
Unlike other clip and episode-streaming apps, the SNL app has an intricate exploration tool to discover the best of each episode for the past 40 years. Initially, the library is starting with 5,500 classic and current clips. When the app is first opened, it lets you choose your favorite era of SNL, from the late '70s to the current season. The best clips from the chosen time period are queued. As you watch or skip a skit, the app notes your preferences and uses an algorithm to automatically play clips that match your viewing history. Click on the "i" and tap the star to add a clip to a favorites library for fast access.
Along with random clips from each era, you can browse by year. Under each year is the cast list for that season along with a list of episodes. Tapping on cast members brings up their clips from all seasons. Tapping on each episode of a season brings up the classic skits from that episode. Each clip includes its original air date and can be shared on Facebook.
If you prefer to look for a specific sketch—"Church Lady,""Samurai," "Wayne's World," "Coneheads," and so forth—the search tool displays results of the search terms found for characters and recurring sketches, along with a list of each sketch. A search for Madonna not only includes sketches that starred Madonna, but a list of impersonations by cast members.
In a press release, NBC Entertainment stated that while there are almost 800 episodes now, more classic episodes and clips will be added. For hardcore fans of SNL, the app also includes an SNL emoji keyboard to add pictures of Hans and Franz, a bees costume, and other icons to your texts. It's a great app, even if you just want to stroll down memory lane for a few giggles.