35 Miles…a CES Personal Best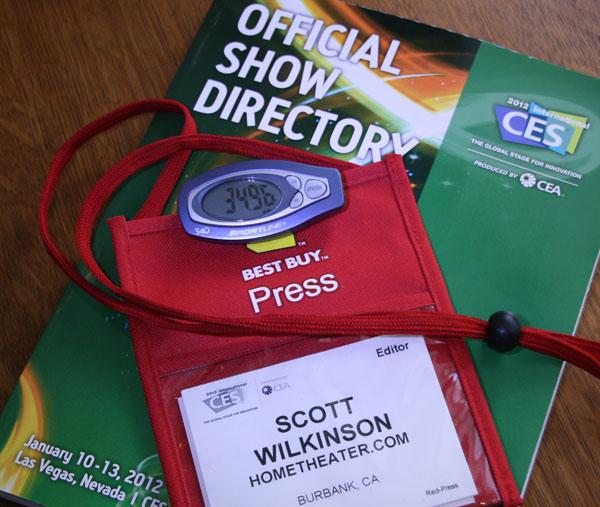 I couldn't believe it when I looked at my pedometer upon returning to my hotel room after CES closed last Friday—I had walked just a smidge under 35 miles in five days! That's way more than I've ever done before, and my feet knew it.
Lying on the bed, exhausted, I couldn't help thinking about all I'd seen in those 35 miles. Some attendees I spoke with summed up their feelings about the show with a yawn, but not me. I found this year's CES to be very exciting, full of important introductions and announcements that will fill the coming year with plenty of things to write about and lust after.
As I've said in other posts, the most important news in my view was the introduction of 55-inch OLED TVs from LG and Samsung, which both companies swear will be available at retail in the latter half of this year. We've seen "concept" demos of OLED TVs at CES for years, but this was the first time the technology was shown in an actual product, and at a much larger screen size than ever before. The panels are razor thin, the blacks are to die for, and the colors literally pop off the screen. If LG and Samsung have solved the longevity problem, especially of blue OLED material, if the oversaturated colors can be brought into line with video standards, and if the price is closer to $5000 than $10,000, this is a real game changer.
The other big TV news was the appearance of 4K flat panels from LG, Samsung, Sharp, Toshiba, and others. Because commercial 4K content won't be available to consumers any time soon, this technology is less important that it might seem. It's biggest benefit is the ability to display 3D using passive glasses with 1080 lines of undisputed vertical resolution for each eye. Otherwise, these displays will mostly upconvert 1080p content, which isn't all that exciting—except perhaps for Sharp's ICC-4K upscaling, which takes human perception into account and produced an amazingly sharp and detailed image in the demo.
3D was so ubiquitous, it almost seemed to disappear into the background—except at the LG booth, which featured a huge 3D video wall consisting of dozens of tiled flat panels. Many attendees I spoke with thought 3D is on its way out, but that's not how it looked to me. The vast majority of new TVs and projectors have 3D capabilities, and there were several content announcements, including 3D-streaming services from LG and Sensio. Also, some 200 hours of 2012 Olympics coverage will be broadcast in 3D.
Speaking of content, online streaming was the big story there—much more important than 4K and 3D in my view. All the major manufacturers announced significant upgrades to their "smart TV" platforms, with more content providers and other apps, such as social media, as well as full Web browsers. Google TV made a big comeback in products from LG, Sony, and Vizio, and Technicolor announced its M-Go service, which aggregates content from multiple sources and should do very well thanks to the company's strong ties to the Hollywood community.
Sharing content among various devices—TVs, tablets, and smartphones—was also big news, as was the appearance of remote-control apps for tablets and smartphones. Equally important—if not more so—was the introduction of advanced user interfaces from LG, Samsung, and others, including voice command a la Apple's Siri and gesture recognition akin to Microsoft's Kinect that lets you wave your hand or a small remote to move a cursor around the screen and activate various controls.
Most of the audio announcements at CES were made at the Venetian hotel, and most of those were 2-channel audiophile systems. I paid more attention to several audio-enhancement demos, such as Intersil/D2Audio's Mighty Cat, which applies mastering algorithms to specific audio products to improve their sound, and SRS Labs' PureSound that does something similar; in my opinion, both did indeed improve the sound quality of inexpensive speakers and onboard TV sound, respectively.
Generating a 3D soundfield from two speakers or a soundbar was the goal of several systems, including GenAudio's AstoundSound, Sonic Emotion's Absolute 3D, and SRS Labs' NviroSound, and all worked surprisingly well. Finally, DTS was emphasizing that audio quality is important and should not be given short shrift, a perspective I wholeheartedly share.
So there you have it—another CES come and gone. I am grateful to Mark Fleischmann, Barb Gonzalez, Tom Norton, Rob Sabin, Jamie Sorcher, and Darryl Wilkinson for providing such extensive coverage of the show, and I hope you've enjoyed our many blogs and videos. Now, the real work begins—reviewing products and writing about the new technologies that will soon become part of our lives. It should be an interesting year!