33 Hours in Florida: The Toshiba Line show.
I had this whole clever thing planned where I was going to do an hour-buy-hour recap of each of the 33 hours in Florida, but I realized that would be excruciatingly boring. So here's the highlights:
Toshiba is still proudly making direct view CRTs.
"Regza" is Toshiba's sub-brand name for their premium LCD direct views. These displays will have "exceptional build quality," a different design, faster glass (8ms or better), and 12-bit video processing.
The "xHD" panels are boasted to have "2x Resolution." This does not mean, as I first assumed, that the panels are 2160p.
For kitchens they have Realsteel LCDs which boast a frame of, you guessed it, actual steel. Or, it could be fake steel, I didn't ask.
SED will probably be out by next Christmas… in Japan. The difficulty is getting the yields up so it can be price competitive. They're still saying it will be at a premium over similarly sized plasmas.
None of this generation of displays from Toshiba will have 1080p inputs.
They claim the reason why the HD DVD discs are 1080p and the output from the players is 1080i is because the vast majority of TVs are 1080i or lower and even those TVs that are 1080p most don't have 1080p inputs. Read the item above. They also claim that all 1080p displays will de-interlace 1080i correctly. Ah, I beg to differ.
They also tried to explain why every audio track on an HD DVD is converted to DTS before it is output digitally (via coax or optical). This was a wonderful piece of circumlocution, enough so that I'm not sure even I understand it. Here's a diagram they presented: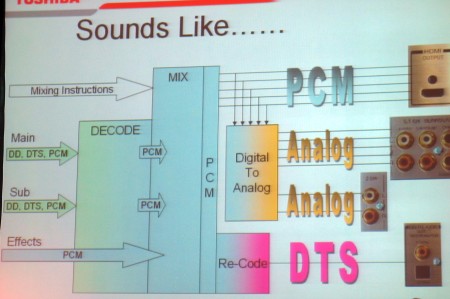 LATEST VIDEO