3 Faces of HDTV Page 4
LG RU-52SZ61D The new kid on the block compared with CRT and LCD, Digital Light Processing has quickly made headway into both front-projection home theater installations and actual movie theaters, where it's known as Digital Cinema. But DLP might be picking up the most momentum with rear-projection TVs. A lot of people crave big screens that don't take up too much living-room real estate - something DLP-based rear-projection TVs deliver.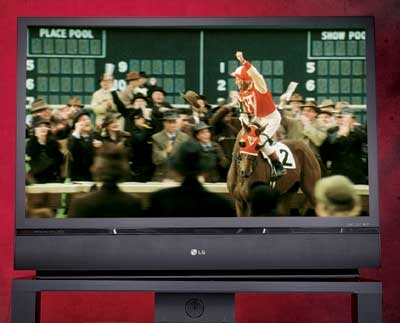 LG RU-52SZ61D
DIMENSIONS (WxHxD) 48 1/2 x 35 x 15 3/8 inches WEIGHT 117 pounds PRICE $3,300 MANUFACTURER LG, www.lgusa.com, 800-243-0000
PLUS • Great color rendition and shadow detail • Crisp high-def picture • Excellent screen uniformity and brightness • Slim cabinet • Direct video input keys on remote control
MINUS • No custom picture control for each input • Some visible "rainbows"
You might not know much about the Korean electronics giant LG, but a perfect example of LG's new offerings is the RU-52-SZ61D ($3,300). With a 52-inch screen and solid black cabinet, this tabletop rear-projection DLP set is impressively monolithic and stark, having only a few control buttons on the front. At the same time, its cabinet is a surprisingly slim 15 1/4 inches, making it an easy fit for tight spaces.
HDTV-compatible inputs on the rear panel include component-video, VGA-style RGB, and DVI/HDCP, all of which accept both 720p- and 1080i-format high-def signals. The remote control is bulky, but it has a clean, well-spaced button layout and a fully backlit keypad. Amazingly, there are direct-access buttons for each of the TV's main inputs - a rare thing in a remote. You cycle through the screen format choices by pressing the (aspect) Ratio button. Along with standard 4:3 and widescreen 16:9, selections include Horizon (stretches the sides of a 4:3 image while leaving the center mostly intact), Zoom1 (linear zoom), and Zoom2 (combination zoom/horizontal stretch). All modes except Horizon can be used with high-def programs.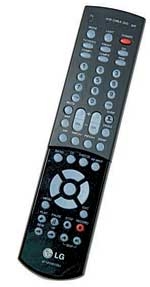 I was disappointed when I started to set things up. There were six video presets, but only one custom picture memory that applies to all of the set's inputs. Switching between standard- and high-def video sources is one thing, but when you add digital connections like DVI into the mix, you have to fine-tune picture settings for each input so all of your video sources will look their best. Unfortunately, you can't do that with this TV.
PICTURE QUALITY Setup gripes aside, the LG displayed a good picture right out of the box (see "in the lab" for details). In the opening shots of Seabiscuit, where the camera moves slowly over old photographs, the black-and-white images had a rich, silvery tone. In dark scenes, like the one where Charles Howard (Jeff Bridges) gives a toast at a dinner party, background details like furniture and curtains were clearly visible, and the black tones of the guests' tuxedos stood out amidst the gloom. And in a scene at a Tijuana racing park, the festive colors of the jockeys' uniforms looked vivid against the more earthy tones of the park's desert surroundings.
The LG's subtle handling of movies on DVD gave me high expectations for its HDTV performance. In Before We Ruled the Earth, a Discovery HD Theater Channel program on Cro-Magnon man, the widescreen shots of the western landscape looked fantastic. There was a startling degree of detail in the grass and buffalo hides worn by the actors, and the graphics in descriptive interludes looked crisp and clean. I was also impressed by the range of colors visible in the hills. It was as if I was there, gazing out across the vast, empty landscape.
Although the LG impressed me as having some of the better performance characteristics of its tube-based competitors, one issue that I've seen on other DLP TVs reared its head. Single-chip DLP sets like this one are prone to what techies call the "rainbow effect" - a quick flash of color that shows up on dark/light transitions in images, which is caused by a color wheel the TV uses to filter white light into its red, green, and blue components. I saw many rainbows during my time with the LG set, although they usually passed so quickly that they weren't distracting.
---
LG's RU-52SZ61D is the kind of big-screen TV that I could easily take home to replace my tube set - its video performance is that good. Still, I'm bugged by the lack of custom picture-memory settings, something I've come to expect in high-performance TVs. But overall, LG has a winner here, and at $3,300 it's likely to tempt potential buyers away from tubes.
PDF: Features Checklist PDF: In the Lab
The Bottom Line By now you know that CRT, LCD, and DLP televisions each have their own distinct visual signatures, and hopefully you have a better idea of which one best suits your own needs and taste. But no matter what the differences are, each of these sets delivers high-def images that look way better than what you're used to seeing on your old analog TV. So if you've decided to upgrade to a big-screen HDTV, prepare to see things in a completely new light.
LATEST VIDEO