24: Season 1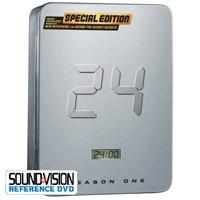 20th Century Fox
---
Movie ••••½ Picture ••••½ Sound ••••½ Extras ••••
With Season 7 of this domestic-thriller franchise not arriving until 2009, Fox has turned back the clock and created a seven-disc Special Edition for Season 1, which was originally released on six bare-bones discs in 2002.
Bonus documentary The Genesis of 24 dissects the show's innovations: shooting a series in real time (literally), positioning cameras to shape the drama itself, and using split-screens effectively. In their commentary on Hour 1, the episode's director and its director of photography track the consequences of "un-TV ugly lighting," and why it's not wise for cameras to stay motionless. And later, executive producer Joel Surnow's brief but pointed commentary on the angst behind the choices for the season's shocking final scene reinforces how the show's central tragedy continues to haunt and drive tortured CTU agent Jack Bauer (Kiefer Sutherland).
The immersive surround sound trumps that of the original DVD release, right down to the intense rush of the Sean Callery score that plays during the menus. Ditto the panoramic visuals (though a scene where a camera operator is clearly onscreen for 3 seconds during Hour 7 still hasn't been excised). If you thrive on perpetually palpable tension, 24 is your fix.
LATEST VIDEO