2006 Lincoln Zephyr THX Sound System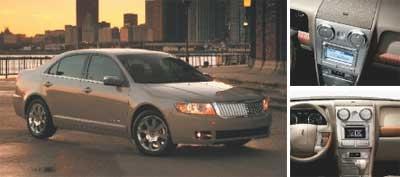 THX originally brought its knowledge of creating great sound in defined spaces on the road with the debut of the THX Certified Premium Sound System in the 2003 Lincoln LS. Now a sweet second-generation version is available as a $995 option in the less expensive, sportier '06 Lincoln Zephyr (sticker price around $29,000).
The 14-speaker, 600-watt system includes some cool stock-stereo firsts, chief of which is the dual 6 x 9-inch woofers in the rear deck. During a test drive around Los Angeles, I gave the woofers a good workout with Wilco's "A Shot in the Arm" from Summerteeth and OutKast's "Ain't No Thang" from Big Boi & Dre Present. In both instances, the woofers pumped out impressive low end; the bass in the Wilco track was tight and controlled, while OutKast's Dirty South down-low was plump and punchy.
What THX dubs a Configurable Speaker Array - two 2.8-inch midranges that radiate into a chamber with their output directed through slots that face outward (as opposed to straight up) and a 1-inch tweeter beneath a grille in the center of the dash - yielded a particularly wide and high soundstage.
Also on hand is digital signal processing (DSP), which "steers" the sound so that it precisely matches the acoustics of the vehicle, as well as a proprietary surround mode that up-mixes two-channel recordings and adds ambience to stereo fare. While I've never been a big fan of such processing, it did add extra dimension to the Flaming Lips' panoramic Yoshimi Battles the Pink Robots. The DSP software also monitors the input signal, the volume-control setting, and the available amplifier power and automatically dials the system back before it starts to distort.
The rest of the speakers include a 5x7-inch midwoofer and 1-inch tweeter in each front door, another 5 x 7-inch mid in each rear door, and a 4-inch mid between the woofers in the rear deck that serves as a rear center channel.
The system is controlled from a six-disc CD changer in the center of the dash with a 6.5-inch touchscreen that was very easy to use. If THX can make a sedan like the Zephyr sound this good, I can't wait to hear what they can do for an open-air roadster.
Photo Gallery of Lincoln Zephyr THX System