'Fling' Web Videos to Your TV with Flingo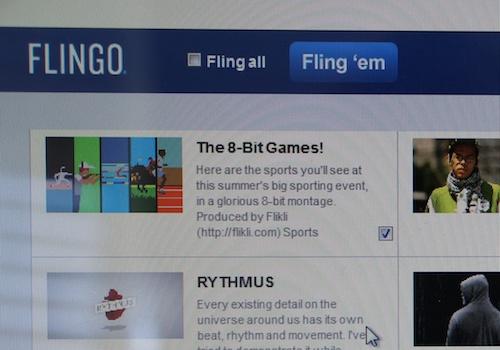 Media streamers and Smart TVs are only as good as the content they can provide. Yes, it's important to have good picture quality, but often the determination of which player you buy comes down to what you can stream to it? If you like TV shows, you want Hulu Plus. For movies make sure you have Netflix or Vudu. Beyond the big-named online streaming services, there is a plethora of special interest websites that stream short-form videos. Thanks to app publisher, Flingo, many of those channels are becoming available on media players and Smart TVs. The Flingo Queue adds the possibility of watching any video you find on the web on TV.
Started in 2008, Flingo was created by Ashwin Navin who had previously co-founded BitTorrent, an app used for uploading downloading of files (video) to/from the Internet. With Flingo, Navin continues to focus on delivering Internet content. Flingo is an app publishing company that works with websites (other than the Google and Amazon giants) to create video streaming apps for Smart TV and media players.
Apps published by Flingo may appear alongside other single apps, or can be made available gathered together under an app powered by Flingo. Flingo's TMZ channel app is available on its own for Samsung TVs. D-Link's MovieNite media streamer includes a Flingo collection with over 100 special interest streaming video apps (channels) that is called "MovieNite Apps." Flingo app collections include niche channels that stream videos about fashion, food, fishing and many more special interests. Adding Flingo to a device is an easy way for manufacturers to claim that they have more than a hundred channels of content, increasing the perceived value of their media streamer.
Videos in Flingo apps are typically under 10 minutes long. A user can browse through collections to learn about cooking, listen to a weekly chat from the President on the White House Channel or watch Warren Miller Extreme ski runs. Other apps include videos from street basketball league And1, Fitness Magazine, Formula DRIFT, TV Guide and Transworld.
The Flingo Queue
If the hundred plus channels of web videos are still not enough content for you, Flingo makes it possible to stream any video you find on a participating website to your TV.
Imagine surfing the web on your computer and coming across a cool video that you want to watch later, or perhaps share with your family. Using the Fling Queue feature, you can send videos that you find on web pages to a Flingo Queue. Videos you "Fling" are available in a watchlist (Queue) to watch whenever you want.
By pressing the Fling bookmarklet (yes, bookmarklet) in your web browser tool bar, you can send the video to any device on your home network that has the Fling Queue app. Devices that have the Que qpp include D-Link's MovieNite media player, Netgear's NeoTVs, Vizio TVs, Western Digital media players and Samsung Smart TVs.
Before you can Fling videos, you must download the Fling bookmarklet and save it to the bookmark bar at the top of your web browser—Safari, Internet Explorer, Firefox or Google Chrome. Be sure to check out the video on the Flingo download page to see how it works.
While I have described the Flingo Queue as "streaming" video from the web to a media streamer or Smart TV, it is not actually streaming from your computer. Instead, when you hit the Flingo bookmarklet in your web browser, it sends the web address (URL) to the player. It is not sending the actual video. When you play the video on your media streamer, it goes to that web address to play the video.
As of this writing, the Flingo Queue is still in beta. Flingo is working out the kinks before its final update, and before it is available on more devices. Not all websites allow you to fling videos. A website must embed a code to allow you to fling videos from their pages. Some websites that allow you to Fling include Funny or Die, Revision3, VEVO, Nike, Vimeo, Crunchy Roll and some YouTube videos.
Early this year, Flingo announced, "Sync Apps," a social media app that can automatically detect what TV show you are watching and display Twitter feeds that have the show's hashtag (the "#subject" included in a tweet that pulls together tweets about that subject). You can also share with Facebook friends who are watching the same show. Sync Apps is a second screen experience. The launch date has not been announced.