Xbox One X: All the 4K HDR You Want in One Box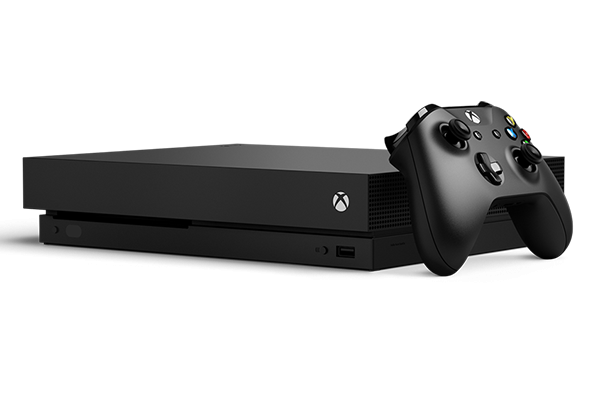 Ever since the first Xbox One was released, I've regularly used it as my primary streaming entertainment system. The new Xbox One X ($499) launched in early November so I have had a couple weeks to test it. With streaming 4K HDR capabilities, 4K HDR gaming, and a built-in 4K/Ultra HD player, this game console has all the 4K content you could want in one device. However, Microsoft is pushing gaming at the expense of simplified streaming and movie/TV/video playback.
Setup has always straightforward with the Xbox and the One X is no exception. From the welcoming screen to step-by-step preference setup, the process went smoothly. The One X is backwards compatible, meaning you can play older games. Games and game saves can be transferred from older Xbox One consoles to the One X using an external hard drive. And having an external hard drive on hand is a good idea: As I added 4K HDR games, the console's 1 terabyte (TB) of storage was already starting to fill up
Over the years, one of my favorite features of Xbox has been voice control, which was made possible through the (now discontinued) Kinect accessory sensor, so I chose to use the "Hey Cortana" voice commands when I set up of the One X. To access Cortana and use voice commands to control the new console, you need a $40 adapter and have to connect a headset with a microphone to its controller. Despite several attempts, I never got it working — not to mention that having to walk around with a controller and wear a headset to navigate or control playback is cumbersome at best. At a time when voice control is improving on most devices, Xbox has taken a step backwards.
Changes Microsoft has made to the Xbox's menus and home screen over the past couple of years have made operation complicated and counter intuitive. The old menu had separate screens for all apps and games and used a collage of boxes to access recently used apps and games. It was easy to move to the apps tab and click on Netflix, Hulu, or whatever I wanted to launch. The new default screen is a collage of recently used apps. To navigate to any other apps you have to press the home button, click on the apps icon, and then click over to a grid of apps to locate and click on the app you want. It's a mess.
Despite the loss of good voice control and a bad menu design, Microsoft has made some clear improvements in the Xbox One X. For one, the new console is all around about an inch smaller than the Xbox One, adding to placement flexibility. The One X is also quite a bit more powerful the Xbox One S launched last year with an HDR-compatible a 4K/ Ultra HD player. Problem is, the One S has only a fraction of the power needed to run 4K HDR games at 60 frames per second (fps). The Xbox One X has replaced the One S's 914 MHz processor and 1.4 teraflops (TFLOP) of graphics processing with a screaming 2.3 GHz processor and a 6 TFLOPs of graphics processing.
For optimal performance, the One X must be connected to an HDMI 2.0-compatible TV that supports HDR and can handle 4K video at 60 fps. This became apparent when I tested the console with on two different 4K/HDR TVs: the Hisense H8C and one of Vizio's M Series TVs. I had no problems with the Vizio as long as I connected the console via one of its HDMI 2.0 ports. When I connected the Hisense to the console, I got a red flag indicating that the TV couldn't display 4K HDR gaming. To resolve the problem I had to go into the Advanced Video Settings menu and check "Allow YCC 4:2:2" (for wide color gamut). You would think all items would be automatically checked.
The Advanced Video Settings menu also provides a useful TV calibration routine to ensure the best possible picture quality.
Once everything was properly set up, picture and sound quality were outstanding. I started my evaluation with the 4K/Ultra HD disc Planet Earth II. Details such as a reptile's rough skin and the smooth, shiny shell of a bug were so lifelike I could almost feel them. The One X supports Dolby Atmos playback but, unfortunately, I wasn't able to test it.
Next, I watched Stranger Things on Netflix to test the console's ability to stream 4K HDR content and was impressed with how HDR revealed details in the shadows of dark scenes. Manchester by the Sea in 4K HDR on Amazon Prime looked better than I've ever seen it, and the Hulu original series Shut Eye was crisp and clear in 4K. Fantastic Beasts and Where to Find Them streamed beautifully in 4K from Vudu as did a playlist of stunning 4K HDR demo clips I created on YouTube. Finally, I played an uncompressed MKV file on Plex. The 4K HDR video was gorgeous, but the file was so big that it required 57 Mbps bandwidth to play without buffering.
Along with movies and other entertainment content, a growing number of Xbox games are being released in 4K HDR. Special effects and detail such as the rivets and texture of X-wing starfighters in Star Wars Battlefront 2 were crystal clear and looked better than in the original Star Wars movie. And when I played Call of Duty WWII, I felt like I was in the middle of Saving Private Ryan. Action was also incredibly lifelike while playing Forza Motorsports 7 in 4K 60 fps and Assassins Creed: Origins in 4K HDR
In the past, I've recommended the Xbox as a home theater streaming device. While the One X can integrate live TV into an aggregated guide, navigation is difficult. Still, if you're looking for a state-of-the-art game console that can play 4K/Ultra HD Blu-ray discs and supports 4K HDR video streaming, the Xbox One X demands your attention. If gaming isn't important to you, there are 4K HDR solutions that cost less.