Hands On: Netgear's Crazy Fast Nighthawk X10 Router/Media Server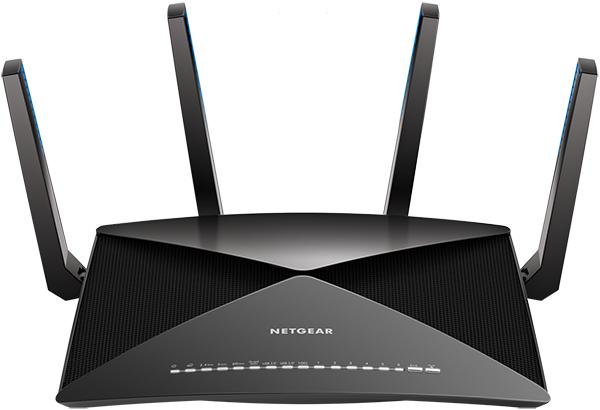 I've spent the last month with Netgear's Nighthawk X10 AD7200 router and I'm happy to report that it streams 4K HDR content and VR games without a hitch. A quad-core processor, improved antennas, and a new Wi-Fi standard work together to bring in the fastest speeds I've seen on my home network. In addition to being super-fast, the X10 has a built-in Plex Media Server and includes backup cloud storage on Amazon Drive. In other words, it may well be the best router you can buy but at $500 it doesn't come cheap.
The X10 is the first home router to have a 1.7-GHz quad-core processor, which makes it possible to transmit four high-bandwidth streams and stream from the Plex Media Server without a computer, while simultaneously backing up to a connected USB drive.
The router's four enhanced antennas improve network reliability and speed by boosting the signal before it even leaves the antenna, which enabled me to stream Netflix 4K movies to a Roku Ultra box upstairs and at the other end of my home. By comparison, the 4K stream slows to HD (and occasionally an SD) when my everyday AC router is used in the same setup.
Moving a step beyond the "AC" (802.11ac) Wi-Fi standard generally recommended for streaming 4K video, the X10 supports the newer "AD" 802.11ad standard, which provides (theoretical) speeds up to 7 Gbps. Of course, we will have to wait until more streaming TVs and players have 802.11ad receivers built in to really take advantage of these speeds. In addition operating on dual bands at 2.4 GHz and 5 GHz, 802.11ad communicates over a 60-GHz band able to carry more information with better throughput.
To illustrate the speed advantage of the "AD" standard, Netgear offers these three examples comparing 802.11ad and 802.11ac networks: 1) 8 seconds vs. 24 seconds for a 3-GB backup, 2) 21 seconds vs. more than a minute to load an 8-GB 4K movie file, 3) less than a minute vs. 2 minutes to load a 20-GB VR video.
Two USB 3.0 ports are available to connect whatever size hard drive you need to store media libraries and back up computers on your network. You can also set up the drive as a private cloud that can be accessed remotely through Netgear's ReadyCloud portal. While some PCs require you to map the network drive, "USB" immediately appeared in my file finder without any special setup and access to the drive was as fast as an internal drive.
Once files are transferred to the connected drive, you can back them up on Amazon Drive, which is available for free for 6 months. After the trial, Amazon charges $60 a year for unlimited storage.
Media Server On Board
Having the Plex Media Server built into the router is a nice bonus as it offers one of the best server/player experiences for those who download media files. Plex gathers metadata and it recommends other titles in your library based on a movie you've chosen. The Plex Media Server is usually run from a computer and requires the computer to be turned on whenever you want to access your media (either locally or remotely). Having it built into the router means removes that worry.
While I was assured that it would be easier to set up Plex on the router than on a computer, I didn't find that to be the case. As with setting up Plex on a computer, you have to manually browse and add media folders to the server's movie, music, and photo libraries. And unlike the Plex Media Server on a computer, which can connect to a number of different drives, the Nighthawk's Plex can access only libraries on the connected USB drive.
During testing, an issue arose where the USB drive disconnected from the router. I don't know how it happened, but the USB (and therefore my Plex Server) was unreachable. I disconnected and reconnected the drive to the router. This was the wrong thing to do as it created new paths to the folders and problems with Plex. It became clear that if the USB drive becomes "unmounted," it is best to reboot the router and keep the drive attached. This resets the library folders to the correct paths.
If you are an established Plex user with large media libraries, switching to the router can be a bit of a hassle. Over time Plex has pulled metadata to go with your media files, including plot synopses, cast lists, posters, theme music, and video extras. When using the library on the X10's Plex Media Server, it retrieves the metadata from scratch, meaning it won't capture any corrections or additions you've added manually. In this case, you might consider creating the new Plex Media Server as a separate source for your account or move a smaller number of files to a new folder to manage the transition slowly.
In the end, the Plex library works as it should. I was able to play my huge iTunes library, watch episodes of Mr. Robot, and view a movie I had downloaded.
The Netgear Up app makes it easy to set up the router without a computer and the Netgear Genie app lets you change wireless settings, control guest access, adjust parental controls, transfer files to and from the USB drive, and access a traffic meter to see how much data you've downloaded.
I have no problem recommending the Netgear Nighthawk X1. With no latency and consistently fast speeds, it is an overall excellent performer with the added benefit of an onboard media server.