Plasma in 3D
The last couple of weeks felt like 3D festivals in Los Angeles, with nearly simultaneous press events involving Digital Projection, Sony, and Panasonic. Panasonic's was by far the more relaxed, intimate affair. With just a few journalists briefed at a time, there was more opportunity to absorb the information and get answers to questions we didn't even know we had until recently.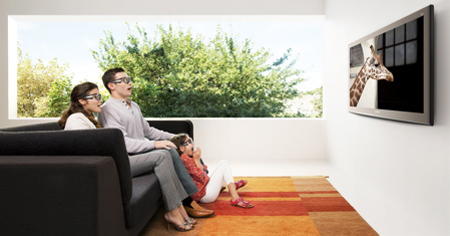 Panasonic held a press event back in February for its 2D sets, one of which has already been reviewed for Home Theater's August 2010 issue. This month's event was dedicated to the company's VT25 3D plasmas, available in 50-, 54-, 58-, and 65-inch sizes ($2600 to $4300). There's also a similar 50-inch VT20 3D set, but it is exclusive to Best Buy.
All Panasonic 3D plasmas come with mail-in vouchers for 3D Blu-rays of both Ice Age: Dawn of the Dinosaurs and Coraline. A single pair of 3D glasses comes with each set, and extra pairs will run you $150 each.
Panasonic claims that its plasmas, with their latest panel design and new, high-speed drive and phosphors, are superior to LCDs for 3D applications. The faster phosphors, it argues, are better at minimizing crosstalk—a phenomenon that occurs when one eye sees an image (or the fading shadow of an image) meant for the other.
The faster response time of the new phosphors also reduces motion blur in 2D images. A demonstration at the event illustrated this convincingly. Detail scanned across the screen was sharper on the Panasonic than on other, competing sets nearby—even a 240Hz LCD set with its frame-interpolation mode engaged. Frame interpolation is neither offered nor needed on Panasonic (or any other) plasmas.
Panasonic 3D sets are THX-certified—for 2D. THX has not yet established standards for 3D displays, so the THX picture mode is only available in the 2D menu (the corresponding menu in 3D is labeled Cinema). As with all 3D sets we've seen so far, different settings are possible for 2D and 3D material. In fact, different settings are necessary, since 3D glasses result in not only a noticeably dimmer image, but a color shift as well. This can making calibrating 3D sets a challenge, since there are as yet no 3D test discs.
Unlike sets from Samsung, Sony, and Toshiba (so far), Panasonic does not offer a 2D-to-3D conversion mode. The company contends that only native 3D performance is acceptable. To that end, our hosts also discussed upcoming 3D programming from DirecTV, Comcast, and AT&T U-verse. This will include at least five 3D channels announced so far (though not all of them will arrive imminently): ESPN 3D, Discovery, Wealth TV, HDNet, and YES (NY Yankee baseball games). At present, such programming will be interlaced and at half resolution, either in the over-under format (1920x540) or side-by-side (960x1080). Motorola is working on 3D set-top boxes that may be able to provide resolution closer to full HD in 18-24 months, but how they intend do this without an increase in bandwidth will be interesting to see.
As of now, and for the foreseeable future, the only inarguably high-definition 3D material will come from Blu-ray. Panasonic is also launching its own BDT350 3D Blu-ray player ($429)—the first Blu-ray player to our knowledge offering two HDMI 1.4 outputs, both of which operate simultaneously. This will help consumers whose older HDMI 1.3 and earlier A/V receivers cannot pass a 3D signal on to the display by connecting one output directly to a 3D TV and the other to the AVR for audio.
While Panasonic mentioned in passing that its new plasma-fabrication capabilities can produce 4Kx2K displays, there are, at present, no consumer models available with this resolution. But the company recently announced that it will offer a 3D, 4K (4096x2160) version of its 152-inch (!) plasma. This monster was a showstopper at last January's CES, even though it was showing only 2D content at the time. No price as yet, and it will not be available until early 2011. But if you're in a rush, you can get the company's 85- or 103-inch 1080p models, now with 3D, for $45,000 and $65,000 respectively. I'll take one of each.