New Sony TVs
Sony unveiled a slew of new TVs at their recent TV unveiling in NYC.
Perhaps the coolest of the bunch is the new XBR5 line of SXRD RPTVs. Availible this fall in both 60-inch (KDS-Z60XBR5, $5k) and 70-inch (KDS-Z60XBR5, $6k) versions, they look like LCD flat panels. In fact, the only way to tell that they aren't is to view them from the side. Unlike Hitachi's short-lived try at this trick, even side views aren't a dead give-away. They look to be around 10 inches deep. The stand holding up the display in the pictures below is just that, an optional stand, not a part of the TV.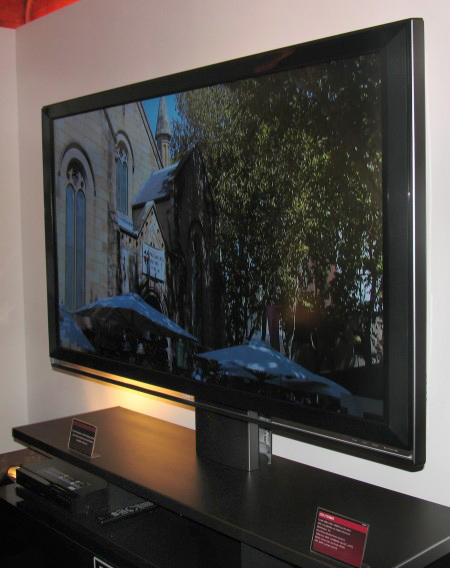 Also new is the inclusion of 120 Hz MotionFlow to the SXRD line (both XBR and A3000). This works the same as it does in LCD flat panels. There are different settings, which adjust the severity of the frame interpolation. Also available is two different levels of black frame insertion, which, like the frame interpolation, will reduce motion blur and perhaps increase apparent black level.
The lower model A3000 series has removable and interchangeable bezels so you can match your RPTV with your dcor.
You can read the full press release here.
Not just RPTVs were on display. Also shown were a bunch of new LCDs. Mostly they're updates from the previous line.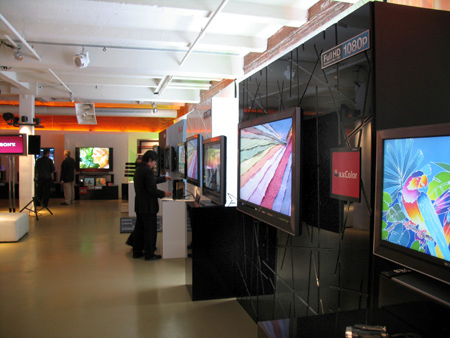 You can read the press release on the LCDs here.
And because it was pretty, here are two views from the roof of the building where they held the show.