John Tucker Must Die—20th Century Fox
Video: 2
Audio: 2
Extras: 3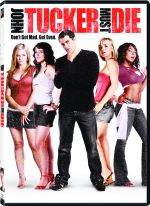 Ah, the joys of high school: acne, proms, SATs, vengeance. At least that's what John Tucker Must Die leads me to believe. See, John Tucker is the BMOC, the basketball captain, and a playa with the ladies. Unfortunately, three of John's ladies (all WB girls, I think) have found out about one another and enlist the help of the new girl, Katie, to enact revenge. Hijinks and female empowerment ensue.
The DVD comes in both widescreen (1.85:1) and full-screen versions—all on one disc. This way, the candy-coated palette can fill up your whole screen if you choose. Thankfully, there's also a Dolby Digital 5.1 soundtrack to turn your home theater into an iPod full of pop hits you'll forget by the time you finish reading this sentence. The disc actually has quite a few extras, including both the theatrical cut and the unrated cut, which sadly doesn't include any graphic teen sex. Director Betty Thomas provides a commentary track (along with editor Matthew Friedman) that's much like the movie itself: occasionally entertaining but mostly play-by-play. There are also deleted scenes, a music video, a dating quiz (which isn't interactive, but I still failed), and several featurettes, including my favorite "Grrrl Power!" which shows how the girls in the cast bonded during production. It also adds even more miniskirts and bare midriffs than the movie could provide.
John Tucker is slightly better than it has any right to be, but, like cotton candy, you're likely to forget it almost instantly after consumption.
LATEST VIDEO