Wi-Fi Speakers Hear Voices, Add Google Assistant and Alexa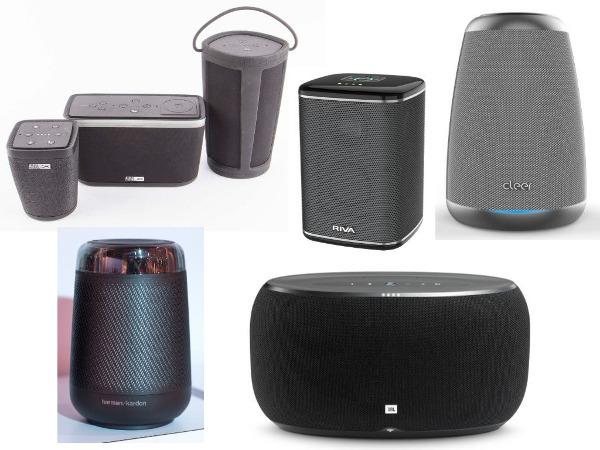 Makers of wireless multiroom-audio speakers are hearing voices, and the voices are telling them to smarten up if they want to survive.
Here at CES in Las Vegas, the number of "smart" Wi-Fi speakers incorporating voice-controlled virtual digital assistants is exploding. The speakers feature microphones to detect voice commands and come with either Amazon Alexa or Google Assistant built in. They're rolling out on the show floor from traditional CE companies, which are trying to stay relevant in a Wi-Fi speaker market dominated by Amazon- and Google-branded smart speakers. In fact, some audio-industry analysts forecast shrinking sales of "dumb" Wi-Fi speakers, which lack built-in digital assistants, while smart-speaker sales continue their rapid rise.
Although dumb Wi-Fi speakers are putting in an appearance at CES, many of them connect over a Wi-Fi network to their smarter siblings to get an IQ boost. Basic functions of these "Works with Amazon Alexa" and "Works with Google Assistant" speakers can be controlled by voice, but the voice commands are detected by, and sent from, a nearby networked smart speaker. Voice-controlled commands include volume, skip track, stop, pause, mute, and choosing music for playback in a specific room or in a group of rooms.
Smart Money
At CES, multiple companies are launching their first smart speakers or expanding their lineups. New models include Cleer's first smart speaker, which features Alexa; Altec Lansing's first models, some with Alexa and others with Google Assistant; Riva Audio's first models, two with Alexa and two with Google Assistant; LG's first, which features Google Assistant; JBL's expanded Google Assistant line; and Klipsch's first smart speaker, which features Google Assistant. Harman/Kardon added its second Alexa smart speaker.
The introductions follow the 2017 launch of smart speakers from at least 16 CE brands, mostly in late 2017. They include Sonos, DTS Phorus, JBL, Harman/Kardon, Ultimate Ears, iLuv, iLive, Jam Audio, GGMM, Fabriq, Omaker, iHome, Invoxia, 808 Audio, Pioneer Elite, and Onkyo.
Here's what we found here at the show:
Altec Lansing: Five new smart speakers include two with embedded Alexa and three with embedded Google Assistant. A third Alexa-embedded speaker is already available. Most are battery-operated models, and all feature Wi-Fi, Bluetooth, and multiroom audio. Some are water- and dust-proof.
The three Alexa-equipped VersA speakers are the $79 VersA To Go portable battery-powered speaker, the $149 VersA At Home speaker with alarm clock, and the battery-powered VersA Portable Speaker at $129. The former two will be available in the second or third quarter. The VersA Portable is already available.
The three Google Assistant speakers (shown), due in the second quarter, are the $129 GVA1 Live, $149 GVA 3 Live To Go battery-powered waterproof model with carrying strap, and the $199 GVA4 Live At Home.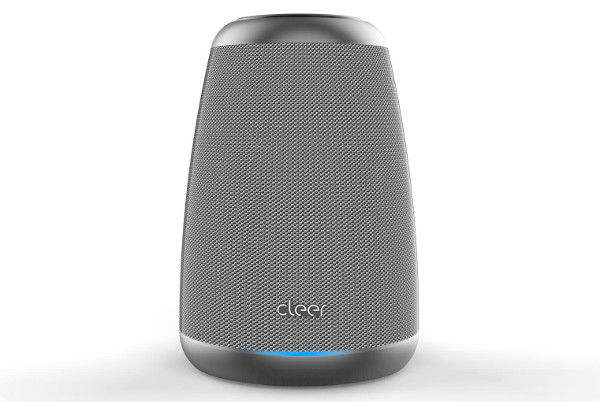 Cleer: The headphone maker's first home-audio product is the $249 Space Smart Home Speaker with built-in Alexa. It features 360-degree design and wireless multiroom audio based on the Linkplay platform.
DTS: The inventor of DTS Play-Fi wireless-multiroom technology released the names of the first "Works with Amazon Alexa" Play-Fi speakers, which can be voice-controlled through a separate Wi-Fi smart speaker incorporating Amazon's Alexa. The speakers include the Pioneer Elite F4, Onkyo P3, and the Phorus PS10. Other audio companies will upgrade their Play-Fi speakers with a firmware update by the end of March, including Klipsch, McIntosh Laboratories, MartinLogan and Thiel Audio, DTS said.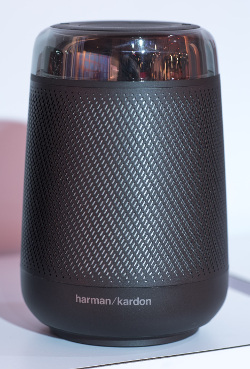 Harman/Kardon: The Harman brand's second smart speaker with built-in Alexa is the $199 Allure Portable, due in the spring. It's a portable battery-operated version of the $249 360-degree Allure, available since late 2017. It also joins an HK smart speaker with embedded Microsoft's Cortana virtual assistant.
JBL: The Harman brand expanded its selection of wireless-multiroom speakers with Chromecast built-in (CCBI) and embedded Google Assistant.
The $399 Link 500 (shown) joins three other JBL speakers with embedded Google Assistant. A ship date was unavailable. Like the $149 Link 10 and $199 Link 20 battery-operated speakers, Link 500 features Wi-Fi, multiroom CCBI and Bluetooth, as does JBL's non-portable $249 Link 300.
In CCBI speakers lacking Google Assistant, JBL plans early 2018 delivery of the $499/pair vertically oriented Control X Stream. Two can be paired for use as separate left-right speakers. It joins JBL's $150 Playlist with CCBI. Both feature Wi-Fi and Bluetooth.
Klipsch: The company will build Google Assistant into its next generation of Heritage Wireless tabletop speakers, which feature mid-century modern cosmetics, wood-veneer cabinets and copper knobs and switches. The next-gen The Three is due in the fall at $499 with DTS Play-Fi wireless multiroom technology, Bluetooth, and a USB audio port. The next-gen The One at $349 is due in the spring with Bluetooth.
LG: The company is building Google Assistant into TVs and into its first smart speaker, which also incorporates Chromecast built in (CCBI). Pricing wasn't available.
Riva Audio: Five new wireless-multiroom products include the company's first two smart speakers with built-in Google Assistant, first two smart speakers with built-in Amazon Alexa service, and a Wi-Fi streaming amplifier. All are due in the spring at unannounced prices.
The smart speakers with Google Assistant include the splash-resistant Arena Voice (shown) with optional 20-hour battery pack. It will be followed by the Festival Voice. The two speakers with Alexa are the Concert and Stadium. The Concert comes with optional 20-hour battery pack.