Where Are All Those Old TVs Going?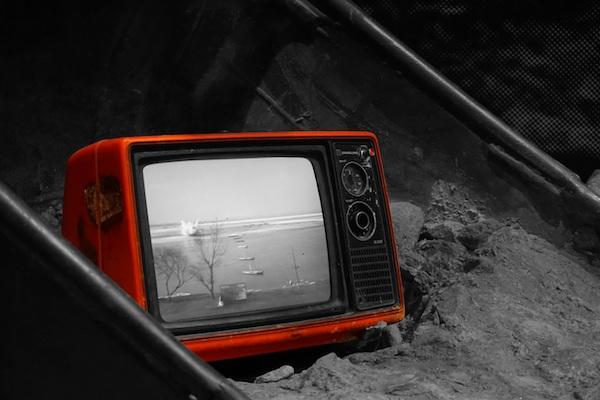 Televisions are one of the most popular items to purchase during the myriad Black Friday sales extravaganza that's already begun—even though it isn't Friday, yet. Last year, for example,
Target sold 3,200 televisions per minute
in first hour of opening on Thanksgiving. With prices coming down on 4K UHD TVs with HDR, you can bet that TVs will be as big—if not a bigger—a sales success. (
BestBlackFriday.com
is predicting that you should be able to find an "Off-Brand" 65-inch 4K UHD TV for $500 with an equally off-brandish 70-incher going for as little as $750.) No matter which way you count it, there is going to be a gargantuan tonnage of TVs sold—and that's just
this week
!
That's a lot of freaking TVs. In fact, if you put them diagonal-to-diagonal, that number of TVs would be able to reach around to the backside of the moon and play reruns of the Jerry Springer Show. (Actually, I don't know that for a fact. I have no idea how far a line of TVs like that would reach, and I don't have the inclination or the energy to figure out what the exact distance would be.) Here's something I do know for a fact, though. According to the latest numbers compiled by the market research company, Neilson, in Nielsen's National Television Household Universe Estimates, "there are 119.6 million TV homes in the US for the 2017-18 TV season", which means that "the percentage of total US homes with televisions receiving traditional TV signals via broadcast, cable, DBS or Telco, or via a broadband Internet connection connected to a TV set is currently at 96.5%, an increase of 0.5 percentage points from last year's estimate." With so many US Households already owning at least one TV, my guess is that a large percentage of the TVs sold during the Black Friday madness are going to be purchased in order to replace an existing TV.
All of which begs the question, "What the hell is happening to all those old TVs?"
Depending upon where you live, the answer will likely differ. I live out in the country, and I've unfortunately seen more than one TV dumped off the side of the road in the less-traveled, forested areas. Some get picked up by the trash collector and are buried in the local dump along with paint, prescription drugs, and other potentially toxic materials. The laws on what to do with e-waste (TVs, smartphones, tablets, monitors, laptops, etc) vary quite a bit from state to state. (The following graphic from the Electronics TakeBack Coalition shows the state of your state's laws regarding disposal of e-waste as of 2012.)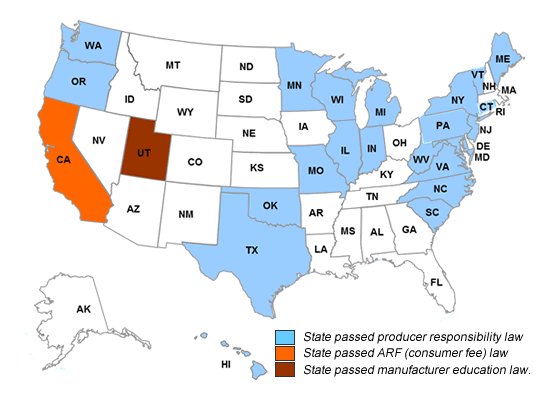 Regardless of your state's laws, don't just dump, bury, or burn your old TV. There are lots of stuff inside that TV that simply aren't good for the environment and the people, plants, and animals that live in it—including you. There also happen to be precious metals such as gold, silver, platinum, palladium, copper, tin and zinc in those old sets. Especially obnoxious are those old CRT TVs that contain an average of six pounds of lead. (According to the old EPA, there are something like 100 million CRT TVs in storage that need to be properly disposed of.)
Here's what the Consumer Technology Association (CTA) says about the importance of proper disposal of used electronics:
It's important to responsibly recycle your electronics at the end of their life. Many of the components in the devices can be recycled to make other products. Consumer electronics contain metal, plastic and glass that can be used in new products.

If your product is still in good condition, you should consider reselling or donating it to your local school, retirement home or community center. You might be surprised how valuable your "old" device is to someone else.
When it comes to actual recycling rather—than repurposing—things can get a little more complicated:
And remember — before you drop off your old TV, computer or other device, check the "Accepted Electronics" tab in our search results or call ahead to confirm that they'll accept your device.

Please note, some locations do not accept TVs over a certain size unless you purchase a new TV, then they will haul away your old TV for free. If you have a large TV that does not meet the requirements of your first choice of drop-off locations, consider using one of the other locations listed.
To make things easier to find the nearest place to drop off your TV, the CTA has an
electronic recycle center locator
where you can enter your zip code. Not every retailer of TVs accepts all sizes for recycling. Some do for a fee. There are also independent recycling companies, a few of which will actually come to your home to pickup those old TVs and other e-waste—for a fee, of course, such as
1-800-GOT-JUNK?
and
Junk King
.
Here are links to some additional resources (no pun intended) on recycling:
Some of the e-waste you'll be disposing/repurposing/recycling—including smart TVs, by the way—have account logins and passwords stored on memory chips inside. For TVs and streaming devices, make sure you wipe out those accounts before setting them free…