The Transport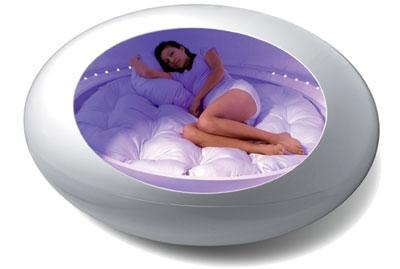 For a psychedelic, meditative escape (or just some much-needed Zs), enter the Transport, a white-fiberglass "perceptual pod" created by architect Alberto Frias. "The Transport is about the integration of light, sound, and space," he says. The light is an LED setup that can be made to pulse in response to the sound - which, in the current demo model, is from a system by Anthony Gallo Acoustics.
And the space? I'll let Frias take it from here: "As you lay on a fluffy, cloud-like cushion inside a womb-like space, you feel as if you're stepping into a large dinosaur egg or some futuristic primordial cave." The cushion rests on a temperature-controlled waterbed mattress; stashed underneath that, a subwoofer provides massaging vibrations. With room for one person or two, the pod can be hooked up to an external audio system, a computer - or even, yes, your iPod.
Frias says future enhancements will include a "home entertainment projector system," since "the oval opening creates an excellent frame from which to view a projection on a screen." And the eco-minded will appreciate that he's working on making the fiberglass from a soy-based resin rather than a petroleum-based one.
For now, if you have an extra $10,000 in the bank, one of these babies can be yours, individually signed and numbered (check out albertofrias.com). If not, Transports should be landing shortly at luxury hotels, spas, and all over Las Vegas.