Test Report: LG 47LE8500 LCD HDTV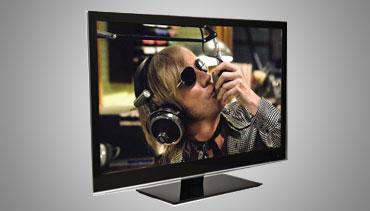 These days, LED-backlit LCD TVs get a lot of attention, thanks in part to their super-thin form factor. This is especially true for edge-lit LED models. But the real promise of LED backlighting has always been picture-quality improvements via local dimming, in which a full array of LEDs behind the panel allows the backlight to be dimmed or turned off in specific areas according to the demands of the image. Properly executed, this allows for near-perfect deep blacks - a critical element for getting great contrast, bright colors, and a superior overall picture. The 47-inch 47LE8500 from LG Electronics is an example of this breed. The 8500 Series, also available at the 55-inch size, doesn't offer 3D capability. But it's fully featured in virtually every other regard.

And it's a beauty. The TV is a svelte 1.25 inches deep without the base, and the entire facade is a single sheet of smooth glass with a stylish, translucent edge. The LCD panel itself is surrounded by a black frame under the glass highlighted by an LG logo at bottom center that doubles as a power indicator; it can be turned off if desired. Powering the set up causes a string of backlit icons on the lower right to fire up in succession; these are actually touch-sensitive controls for power, volume, channel, menu, and source input. The supplied swiveling base is a solid piece of thick glass with a black undercoat and clear edging that mimics the panel's design. The whole thing together is quite stunning.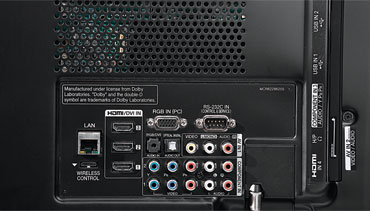 The set's robust selection of rear connections notably includes three HDMI jacks, an RGB PC input, an RS-232C control port, and a LAN jack for an Internet link. A slim left-side-facing jack pack includes a fourth HDMI connection, component- and composite-video inputs accessible via 3.5-millimeter minijacks (a pair of RCA adapters are provided), and two USB connectors for playing movie, photo, and music files via an onscreen menu, or by attaching LG's wireless Wi-Fi adapter (not supplied).

I really liked the LE8500's remote, which is similar to the one that came with the LG BD590 Blu-ray player I reviewed a while back. It's sized and weighted perfectly, and it has a deep finger notch on its underside to keep it properly seated. The volume and channel rockers sit on a clever hump that makes it impossible to confuse the + and - sides in the dark, even without the included backlight on, and the mute and aspect ratio buttons rest right between the rockers for easy access. (With high-def content, the aspect options include a 16:9 setting with modest overscan, a Just Scan pixel-for-pixel mode, and a "Set by Program" option.) Calling up the TV's NetCast menu reveals a colorful but somewhat spartan menu of services by today's competitive standards: Netflix, Vudu, YouTube, Picasa, and Yahoo! Widgets. But the graphics for Yahoo! Widgets look stellar and provide options to set "snippets" that pop up on the screen and allow navigation while viewing.