Tannoy Arena Home Theater Speaker System Page 2
The Short Form
TANNOY.COM / 519-745-1158 / $2,199 / SATELLITES 7.375 IN HIGH (CENTER 9.625 IN WIDE) / SUBWOOFER 17.5 x 13.75 x 8.25 IN, 31 LBS
Plus
•Great looks and build quality. •Crisp, clear sound with good imaging. •Flexible mounting options.
Minus
•Limited bass and dynamics. •Center speaker loses clarity at off-center seats.
Key Features
•Dual Concentric point-source satellite-speaker design •left/right satellite 3/4-inch tweeter, 4-inch midrange •center 3/4-inch tweeter, two 4-inch midranges •subwoofer 10-inch driver, 300-watt amplifier, crossover-bypass switch •Aluminum speaker cabinets finished in silver, white, black, or bronze
Test Bench
Frequency response for the Arena satellite measured relatively flat below 12 kHz but was marked by some treble roughness. Subwoofer measurements showed uniform but somewhat limited dynamic capability, which correlates with Al Griffin's subjective impressions. The sub showed a bass limit of 25 Hz at 82 dB sound-pressure level (SPL) with distortion held to a maximum of 10%. Average SPL was 96 dB from 25 to 62 Hz. - Tom Nousaine Click to view full results
When I cued up "Rammstein" from the Rammstein concert DVD Live aus Berlin, the Arenas conveyed a good sense of crowd envelopment. Vocals coming through the system's center speaker sounded clear and full, and the band's thunderous rhythm section sounded predictably tight. But, again, dynamics were somewhat compressed compared with some other systems I've tested in this price range. The bass wasn't at all boomy, but it came off a little too polite when it needed to deliver real low-end slam.
MOVIE PERFORMANCE Lack of low-end slam when you're listening to Teutonic heavy metal doesn't bode well for action movies, so when Detective Del Spooner (Will Smith) slammed his vehicle up against the sides of a traffic tunnel in a scene from I, Robot, I wasn't surprised to find the impact of the hits somewhat thin. That said, the Arenas conveyed a powerful sense of underground tunnel ambience, and the sound effects were clear and precise as robots skidded off the sides of Spooner's car. In a scene where Del speaks to Lawrence Robinson in a posh high-rise office, their dialogue sounded full and clear when heard from a dead-center position but lost some crispness when I shuffled to the side of the couch.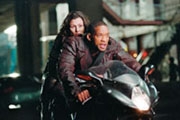 BOTTOM LINE Tannoy's Arena system is no ordinary sub/sat six-pack. These speakers' mod styling, awesome build quality, and versatile mounting options all stand out compared with many other systems in the same price bracket. Bass hounds will find its performance a bit lightweight for the heavier types of music and action movies, but most folks will appreciate its crisp sound, precise imaging, and overall musicality.
LATEST VIDEO