A Tale of Two Towers and the Companies that Built Them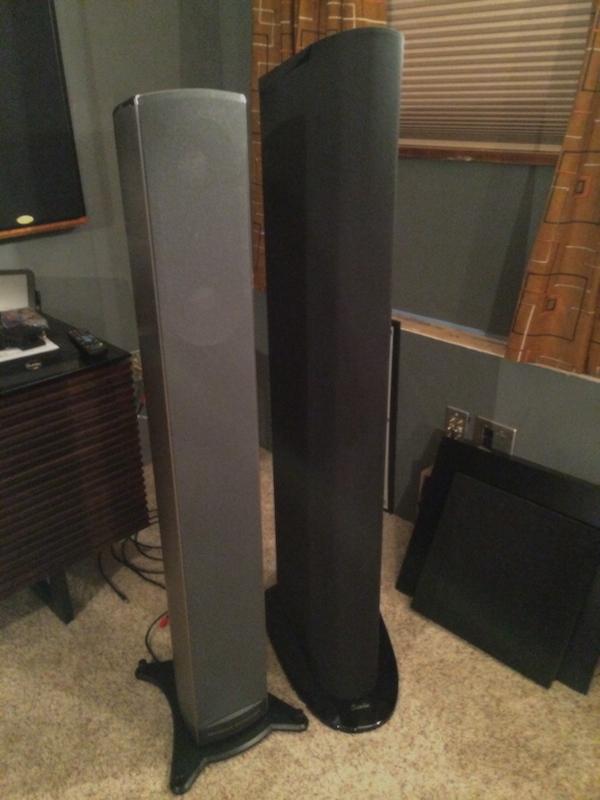 For three short days in April, I had one pair each of new flagship speakers from two of the hottest companies in the audio business today:
Definitive Technology
and
GoldenEar Technology
. Both models are so new that, in the case of Def Tech, the
Mythos ST-L SuperTower
is on very tight allocation to dealers. The new Triton One Tower speakers aren't even listed yet on
GoldenEar Technology's website
. (As of right now, anyway.) Both models are $5,000/pair, which means that, if you're interested in high-performance audio and can afford to indulge your passion for music (and home theater), chances are only one pair of these two speakers will find its way into your home. So the inevitable question is going to be: Which one is the better speaker?
There's plenty of buzz about (but hopefully not from) the new speakers because it's not everyday that two important companies release $5,000/pair, top-of-their-line products. The topic is even more exciting, though, if you know a bit about the politics and personalities behind the two companies. The two co-founders of GoldenEar Technology, Sandy Gross and Don Givogue, just happen to be two of the three original founders of Definitive Technology. (Many years prior to that, Gross was also one of the co-founders of Polk Audio.) A year or so after retiring from Def Tech, Gross and Givogue decided to give the speaker-making gig one more try and started GoldenEar.
Def Tech is now part of Sound United, which interestingly enough, also owns Polk Audio. Although Gross and Givogue haven't been involved with Def Tech since 2009, the current Mythos line from Def Tech still has its roots in the two men's original design concept. But as with any tree, as critical as the roots are, what's just as important is how the trunk grows, branches off, and fills out—and the Mythos ST-L tower is one big, 75-pound branch, that's been thoroughly nurtured and grown by the current Def Tech team. As a result, in addition to owning the company, Sound United owns the resulting successes or failures, as well. (They don't shy away from that fact, either, as is indicated by the 28-page white paper Dave Peet, Definitive Technology's executive vice president, emailed to me that details ALL the significant improvements they've incorporated into the Mythos ST-L.) Much to their credit, they've maintained the brand's focus on affordable, high-performance sound. But are they good enough to design a world-class $5,000/pair set of speakers?
The same question could be asked of GoldenEar. Since they opened the doors in 2010, GoldenEar has gradually introduced three less expensive Triton Tower models: the Triton Two, Triton Three, and Triton Seven. The Triton One, as you would expect from the model number, is the top of GoldenEar's tower line.
It's interesting, although not terribly surprising considering each speaker's pedigree, how similar the Mythos ST-L and Triton One Towers are. Both are tall (approximately 51.5-inches and 54-inches, respectively), slender towers (7-inches and 8-inches) with built-in subwoofer amplifiers (rated at 1,200-watts and 1,800-watts).
The spectacular-looking Mythos ST-L cabinet is made from aircraft-grade extruded aluminum is available in either black or graphite finishes. The Triton One's cabinet is constructed using mediate and then wrapped with a black grille cloth and topped with a gloss-black end cap. While both speakers provide an LFE input on the back, the recommended way to connect them is to use speaker wire and configure your pre/pro or AVR speaker settings to large with no subwoofer. When you listen to either the Mythos ST-Ls or the Triton One Towers, you'll understand why you don't need to bother with a subwoofer in the room if you have these speakers.
The Definitive Technology Mythos ST-Ls arrived just a few days before I had to ship out the GoldenEar Technology Triton One Towers to our lab for testing. That gave me precious little time to compare the speakers; and, most unfortunately, not really enough time to burn in the Def Tech Mythos ST-Ls in order to make a fair side-by-side comparison. My full review of the Triton Ones is in the can and should be available soon. Now that Def Tech's Dave Peet has stopped by and helped tweak the setup—plus do a few impressive demos—I'm ready to start in earnest on a full review of the Mythos ST-Ls, which will probably follow the Triton One review in a month or so.
I wish I could honestly answer the question of which speaker is better. At the moment, I don't have enough hours with the Mythos ST-Ls to feel comfortable making a judgement. Quite frankly, though, I can tell already that both speakers are phenomenal—and well worth taking the time to personally evaluate at the closest store. Or, better yet, with a demo pair for a day or two in your own listening room.
In the meantime, keep an eye out for the upcoming reviews. At least they'll let you vicariously listen to a couple of incredible speakers.