Switchmate Introduces Smaller, Faster Smart Home Light Switch Converters.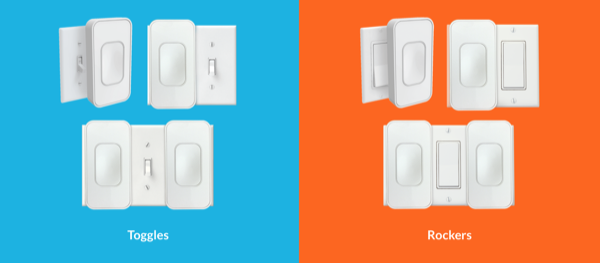 Switchmate
is dramatically expanding the company's line of incredibly simple smart devices for home automation and security developed for do-it-yourselfers who want to convert existing dumb homes or dumber apartments into smart homes or smarter apartments. The original Switchmate is a battery-operated motorized cover that is held in place over an existing in-wall rocker or toggle switch by magnets. When the Switchmate receives the appropriate command, the mechanism inside does the exact same thing you would do with the fingers on your hand: it quickly flips the toggle or rocker switch from off to on (and vice versa). Switchmate says the smart switch conversion can be done in as quickly as one second, although my experience is that it takes more like two or three seconds for the physical installation.
The new Switchmate smart switch will include a slightly narrower chassis, enabling multiple Switchmates to be used side-by-side over a set of switches in a multi-gang arrangement. The new SWMbright model adds built-in motion detection circuitry. The SWMpower is an automated set of two AC power sockets designed to fit over an existing dual-plug AC outlet without any modifications. The SWMpower includes independent control of each socket, a built-in backlight/nightlight, two USB power charging ports, and side-mounted switches for manual control of the status of each power outlet.
The new Switchmate devices have built-in Bluetooth connectivity and can be used locally without a smart home hub in the system. Switchmate will soon be introducing the Switchmate Zip range extender and Wi-Fi/BLE Bridge that will provide control of Switchmate devices over the internet.
The SWMbright (with motion detection) and the SWMpower are both expected to begin shipping in February of 2017 with selling prices of $44.99/each and $39.99/each respectively.
Switchmate is also introducing a line of home security devices designed to be as simple as possible for DIY installation. The SWMsightHD is a battery-powered, indoor/outdoor HD IP camera that, like the Switchmate SWMbright and SWMpower, have "one-second set up" and comes with outdoor-rated 3M Command strips so no drilling or screwing is required for mounting the camera. The SWMalert is an indoor, wide-angle, ceiling camera that is designed to "listen" for the sound of a smoke detector's audible alarm warning in order to send immediate text notifications of the occurrence.
Both cameras come with seven-day cloud storage of recorded video and include a Zip for connection to your Wi-Fi network. The SWMsecure includes a wall-mounted camera, two door/window alarm sensors, and a built-in cellular circuitry for connecting to ATT with no monthly fee.
Exact pricing and availability dates of the Switchmate home security products have not been finalized.