Surround at Work - Part 1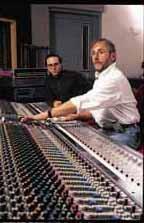 This is the first installment of our three-part Surround at Work special feature.
One of the most important people in the field of multichannel music isn't a musician, although he did play percussion in a stint with Jimmy Buffett's band, the Coral Reefers. He isn't a full-time producer either, although he does have production credits including Bruce Hornsby and the Range's The Way It Is and the Eagles' Hell Freezes Over.
Rather, Elliot Scheiner is primarily a recording engineer - not the sort of position that usually gets recognized by music fans. Yet over the past 35 years, Scheiner's engineering work has been recognized many times by the music industry. He has been nominated 16 times for a Grammy, winning one each for Steely Dan's Aja and Gaucho and three for the band's 2000 comeback, Two Against Nature. And his expertise in the studio has now led him to become an authority on multichannel mixing. His new career in surround sound began five years ago when he mixed Hell Freezes Over for a DTS 5.1 CD. Since then, Scheiner has graduated to DVD-Video, DVD-Audio, and Super Audio CD for releases as prominent as Fleetwood Mac's The Dance, Queen's A Night at the Opera, and the Eagles' Hotel California.
Scheiner recently invited us to Presence Studios in Westport, Connecticut, to watch him work on the six-channel DVD-Audio version of R.E.M.'s brooding 1992 masterpiece, Automatic for the People. At press time, it was due in stores in late September - on the heels of Scheiner's other project for the band, the DVD-A of its most recent album, Reveal. At Presence, Scheiner was beginning his final day on Automatic, and, fittingly enough, the song cued up was the wistful coda, "Find the River."
"The important thing is to maintain the integrity of the original album," Scheiner says, "especially this one, because it's so classic. The first thing I did before starting the remix was just listen and take notes, to make sure we'd be doing the right thing. But I don't really have an idea how the mixing will go until I actually put up the multitracks."
I am in Studio A with Scheiner. Accompanying him is R.E.M.'s representative, Jamie Candiloro, who also assisted with the remix of Reveal - an album he originally helped record. Candiloro has done his own homework. "I talked to [R.E.M. bassist] Mike Mills and [original engineer] Clif Norrell. I wanted to make sure they trusted me. I know all the personalities, too, and a lot of what they're looking for. I know what their comfort zones are. . . . I also did some research. Automatic for the People is an album where, for some songs, a few different versions were recorded. So accuracy is important - going back and finding all the right tape reels. . . . Afterward, everyone will check what Elliot and I have done. That's what happened with Reveal. The band loved it. Reveal is a different kind of record, but both are well suited to surround sound. Automatic is so well sculpted. . . . DVD-Audio gives it an opportunity to breathe."
The time comes for Scheiner to "put up the multitracks" for "Find the River." Morning becomes afternoon as he listens to each instrumental and vocal part to determine their position and level for the six-channel mix.
He starts with Bill Berry's drums, isolating the snare and then the kick. For long moments, Scheiner pauses and listens intently. Referring to the original stereo mix of Automatic, he points out that "the drums are generally sitting pretty far back" - and Candiloro agrees, looking up momentarily from a notebook he's checking. They work together on the reverb in the two surround channels, with Scheiner often turning to face each speaker.
The bass and Peter Buck's acoustic guitars are next, followed by organ. Scheiner then brings back the drum parts and spends time adding and subtracting individual elements to and from the rhythm section.
Now he studies piano, tambourine, and finger cymbal - only two rings of finger cymbal in the whole song, it is discovered. Attention turns to the distinctive phrase on accordion. Then there's the shaker - "dry?" Scheiner wonders aloud. "It does seem pretty dry," Candiloro agrees.
The mix is taking shape, as Scheiner positions the accordion primarily in the left surround channel and the organ in the right surround. Piano flourishes are in both, while acoustic guitars and the main rhythm section are solidly upfront left and right - with bass and drums accented in the center channel.
Suddenly, there's a bracing moment when Michael Stipe's lead vocals issue forth alone, from all corners. "I do the same thing with lead vocals in almost all of my mixes," Scheiner says. "Stipe is in every speaker, but he's a little lower in the center and the surrounds. Some other engineers put lead vocals solely in the center. Frank Filipetti - he loves the center. I'm still afraid to do that. You don't know what the speaker configuration is in somebody's house." Scheiner then puts the background vocals in the surround channels so that they don't jump out but hover ethereally.
At last, several hours having passed, the basic mix is done - but the job isn't finished. Now begins the painstaking process of doing A/B comparisons between the original stereo mix and the fresh multichannel version. Scheiner is up first, then Candiloro. "Does that piano in the chorus seem loud enough?" Scheiner asks. "Yeah," Candiloro replies. Switching back and forth some more, Scheiner isn't convinced: "I'm gonna goose those piano things." Meanwhile, Candiloro realizes that the acoustic guitars in the closing fade are too loud, and they're fixed.
Next up: yours truly! Scheiner beckons me to the console, and it's a genuine treat to switch between stereo and surround - especially because it reveals Scheiner's six-channel mix to be one of his best, an artful blend of the subtle and the active. And R.E.M. has never sounded as resonant as it does on DVD-Audio.
Now that his job is truly finished - "for most songs, I do everything in a day" - Scheiner re-emphasizes the importance of A/B comparisons. "Yesterday, we were doing 'Nightswimming,' which is really just strings and piano. But there are different parts of strings. We thought we had them all, but we discovered we were missing pieces. So multichannel mixing is a constant process of checking what's on the original album."
How constant does that process have to be? Scheiner recalls mixing Queen's A Night at the Opera for reissue on DVD-Audio. "The whole album ended up taking eight weeks, and 'Bohemian Rhapsody' was at least two weeks of that. Even on the last day, there was one thing in 'Bohemian' that I didn't hear before. One line - actually, half of a line, where Freddie Mercury had doubled his lead vocal. Nobody caught it. I just happened to flick the switch in the middle of that half-line, from the multichannel to the stereo, and I heard the difference."
After Scheiner and original Opera producer Roy Thomas Baker completed their remix of the album, guitarist Brian May became available, so a revised remix was begun. Scheiner says that, compared with the original recording, "Brian wanted to change the sound of his guitars, primarily on 'Bohemian' and 'The Prophet's Song.' He said, 'I'm so tired of hearing the guitars this way. I can't stand that they're so bright.' He wanted them to be not as nasty, not as edgy.
"Brian also had me move certain things. In 'Bohemian,' when it cuts to the opera section, I originally put the piano in the rear for those quarter notes: da da da da, da da da da. Everything went to black except there. But Brian said, 'Can we bring it out to the front a little?' So I did - and it just doesn't have the same impact for me. I thought my version was good because it drew your attention, it did something different, it wasn't ordinary. But that's my opinion. Brian's the artist. His name's on that record, not mine."
However, Scheiner wasn't afraid to hold his ground when he believed it was necessary. "Well, 'The Prophet's Song' took forever, and at some point, I couldn't take it anymore. I went through a period of 'whatever you want is fine with me.' Then I realized, that's not right. I said to Brian, 'I'm really unhappy because I've let you take control, and I have no more input, and I feel we've made mistakes.' He said, 'Oh, man, tell me.' And he was absolutely open to it. I had risked ruining the relationship, because I wasn't pleasant about it - and I felt terrible afterward, apologizing for my attitude. But I felt I had to say something, and he was very appreciative of that."
Scheiner admits that remixing old albums can be "extremely difficult." On the other hand, "I'm doing Donald Fagen's The Nightfly soon for DVD-Audio, and I remember literally everything about that record because I was the engineer for all the basic tracks, and I did all the stereo mixing." Even so, "Donald is worried about how the remix will come out. He wants everything to be perfect. So he'll be here at Presence for the remixing." I have since heard an advance disc of the six-channel Nightfly, and judging from its precise sonics and panoramic soundstage, I can assure longtime fans of this acclaimed recording that they won't be disappointed.
One of Scheiner's very first multichannel projects was Steely Dan's Gaucho for a DTS 5.1 CD. He may revisit the album again for Super Audio CD. If so, will he change anything? "Probably. When I did Gaucho for the 5.1 CD, Walter [Becker] and Donald liked every song. But now that we've done Two Against Nature in surround, they feel it's important to have bass and drums somewhat in the rear as well.
"There's a funny story about Gaucho. Just after the DTS disc came out, I was in the listening room of an audio store. A salesman walked over and said, 'Are you interested in this surround stuff?' I said, 'Oh, yeah.' He said, 'I've only got one disc' - and it was Gaucho. 'I'll play it for you,' he said, 'but I don't think you're gonna like it. There's stuff comin' out of the rear, poppin' out here and there.' I said, 'Okay, let me hear it.' So he played the first song, 'Babylon Sisters,' and the background vocals are poppin' out, and he said, 'See what I mean?' And I replied [mock-seriously], 'Yeah, yeah.' " [laughs] Does it bother Scheiner that some people can have that reaction to some of his mixes? "It's okay for anybody not to like something. It has been that way with stereo . . . it'll always be that way. But I get approval from the band or the artist. Once they say, 'I like this,' I'm exonerated. And if I can please the artist with something new, that makes me really happy.
"There's a good friend of mine, Tom Dawes, who used to be in a group called the Cyrkle [which had hits with "Red Rubber Ball" and "Turn-Down Day"]. Tom had never heard surround sound before. So he came in here one day when I was finishing up a mix, and he was so startled, he had a huge grin on his face. "When I mixed Fleetwood Mac's The Dance for DVD-Video, the band wouldn't have anything to do with it at first; they were getting ready to do the tour. I said, 'Please, on my last night, come and listen.' They didn't even know what 5.1 was. So they came. They heard the first song, and their mouths dropped. After the program was over, Lindsey Buckingham said to me, 'I don't know how it's going to be possible to go back to stereo.' "
Scheiner is unbridled in his enthusiasm for multichannel music. "I just love this whole thing," he beams. He loves it so much, in fact, that he has just co-founded a jazz label, Bop City Records, with fellow engineers Al Schmitt and Ed Cherney, and the intent is to eventually release ten new albums a year - all in surround sound.
This comes after Scheiner served a year as a consultant on DVD-Audio for the Warner Music Group. He did several of his major multichannel releases during that time, including one project that, owing to production delays, had yet to see the light of day at press time: Van Morrison's 1970 classic, Moondance, an album that Scheiner originally mixed. "Warner had a big list of other projects they wanted to do," he notes. "A couple of Led Zeppelin albums were on it. My thing has always been to try to get the original engineers to do the multichannel mixing. So we got Eddie Kramer - but Jimmy Page just didn't want to do it at the time. I would love to hear Led Zeppelin IV. That was on the list."
Toto IV is Scheiner's first Super Audio CD, and there will be more. "I do want to work in both DVD-Audio and SACD," he emphasizes. "I'm a proponent of surround sound. . . . I think it really needs to come down to Sony and Panasonic saying, 'Okay, we'll support each other.' Just make the machines so that they can play everything."
He also thinks the car market is key. "As soon as these formats get into the car, people will start to go, 'This is unbelievable.' " But where do you put the center-channel speaker? "Remember in old cars - like a '56 Chevy - you had one mono speaker on top of the dash in the middle, and it reflected off the windshield? In a new Panasonic system I saw, that's where they had the center speaker, and it worked fine."
Before I leave Presence Studios, my talk with Scheiner returns to "stuff poppin' out here and there" - or, as he alluded to in his story about the Cyrkle's Tom Dawes, "the startle effect."
"Brian May said Queen liked that effect. He said if they'd had this technology 25 years ago, this is probably what they would have done.
"The other day, I was playing 'Bohemian Rhapsody' at a demo event. A guy came up to me and said, 'I gotta tell ya, when I first heard your remixes, I was incredibly distracted.' I said, 'Yeah, some people feel that way. I personally don't.' But then he said, 'After listening to surround sound and getting accustomed to the arena, now I don't care what comes out of where.' "
Has Scheiner heard any mixes that he thought were too aggressive? "I wouldn't do anything like what you hear on Missy Elliott's Miss E . . . So Addictive." That mix on DVD-Audio often leaps at the listener from opposite corners. Still, Scheiner says, "I was totally taken by what Jimmy Douglass did. I sat listening in the middle of a room and thought, 'This is brilliant.' But it's different things for different guys.
"When it comes to surround sound, the only thing that really bothers me is zipping around. I try to do one or two pans on a record, and it usually involves a slow, 360Þ motion. . . . But that's about it. Otherwise, those kinds of things are a joke. A mix has to be musical.
"Still, I like the startle effect. I don't mind when main things are in the rear. I don't see anything as a distraction, ever."
So you don't mind if I'm turning my head and glancing back?
"No, I like that. On my DTS 5.1 CD of Sting's Brand New Day, there's one song, "Perfect Love . . . Gone Wrong," where he's got this French woman talking. You're listening to the music, and all of sudden there's this voice - and it's right here [motions just behind his left ear]. Even to this day, when I listen to it, I find myself turning around like somebody's there. And I love it. "I don't want to just surround someone. I want to entertain him."
Next Page: Interview with Elliot Mazer